BBC told to improve peak-time drama and current affairs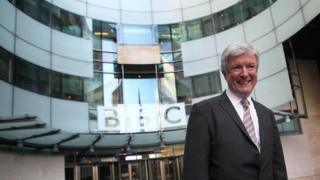 The BBC has been ordered to improve the "quality and distinctiveness" of its peak-time drama and current affairs.
It is one a set of objectives the BBC Trust gave director general Tony Hall in July, which were made public for the first time today.
The targets were published as part of a review into how the BBC is governed, following what the trust called "a number of significant failures".
Several changes will be made to make the BBC more "accountable and transparent".
The BBC Trust will regularly publish the objectives it sets for Lord Hall from now on.
It said the "quality, variety and originality of new drama on BBC One" should be one of his "immediate priorities", especially in peak time.
BBC One has recently enjoyed success with Doctor Who and Last Tango in Halifax. However, other dramas such as The White Queen and Ripper Street - which was cancelled last week - have not done so well.
The "quality and prominence" of BBC One and BBC Two's current affairs coverage was another key area where Lord Hall was encouraged to "achieve new peaks of distinctiveness" by looking at the "creative culture" in TV management and commissioning.
The governance review was launched in September following "a year of difficult events at the BBC".
They included revelations about late presenter Jimmy Savile, multi-million pound pay-offs to senior management and the corporation's failed Digital Media Initiative (DMI), which wasted almost £100m.
'Sensible changes'
The review's key conclusion is that there has been "confusion about who is responsible for what in certain key operational areas and this has undermined confidence in the governance and operation of the BBC".
BBC Trust chairman Lord Patten said he and Lord Hall had now agreed some "sensible changes" to the working relationship between the Trust and the BBC Executive, to make things clearer in terms of their roles and responsibilities.
There will now be new three-stage performance reporting, to ensure better monitoring of specific BBC projects.
It will enable issues to be identified and dealt with early - unlike the DMI project, which was supposed to modernise the BBC's video production and archive systems, but which collapsed after five years, at a cost of £98.4m.
The BBC's Executive Board, which is responsible for making decisions, will now have to report to the Trust more often and more comprehensively throughout the year, so that the trust can assess how it is doing.
Some of these meetings will be filmed and broadcast on the trust website, including end of year discussions about the corporation's performance.
The trust will also ask licence fee payers to help set the priorities for the BBC each year, but it will no longer involve itself in operational decision making.
"This is an important first step in making the BBC simpler and better run," said Lord Hall of the changes, which come into effect from 1 April, 2014.
Value for money
The BBC has also appointed former Sony chairman and CEO, Sir Sir Howard Stringer, to strengthen the team and bring his "extensive broadcasting and commercial experience" to the BBC Executive Board from 1 January, as one of two new Non-Executive Directors.
"People don't just expect the BBC to produce great programmes, they want it to be run well," said Lord Patten.
"While much has gone well in the past, the last 15 months have seen a number of significant failures. [These changes mean] the BBC can get on with the job of running the BBC, and the Trust can rightly focus on holding the Executive to account on behalf of licence fee payers."
One of the other objectives laid out by the Trust, and originally sent to Lord Hall in July, is that "BBC managers need to spend public money as if it is their own money".
In an effort to improve the value for money provided to licence fee payers, the BBC is also tasked with providing "a clear and sustainable response to the NAO's review on severance payments, to make sure we put a stop to any future excessive payments".
Lord Hall announced within his first few weeks in the job that he would put a £150,000 cap on pay-offs for senior managers.
Other objectives include pursuing new creative partnerships with other major cultural organisations and institutions and responding to the general issues revealed by the Pollard report.
It looked into what went wrong in the reporting of Jimmy Savile allegations and why a Newsnight investigation was dropped by the BBC.