Loser novel wins Roald Dahl Funny Prize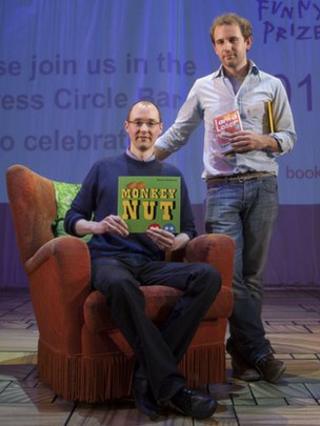 A big-nosed boy's battles with his bully and two creatures fighting to conquer a nut have won this year's Roald Dahl Funny Prize.
I Am Still Not A Loser, the second Barry Loser book from designer Jim Smith, took the award for books aimed at seven to 14-year-olds.
Monkey Nut by Simon Rickerty was judged the funniest book for kids under six.
Now in its sixth year, the prize was created by former children's laureate Michael Rosen, inspired by Roald Dahl.
Dahl was best known for darkly humorous novels such as Charlie and the Chocolate Factory, Matilda and The Twits - and the prize rewards authors and artists whose words and illustrations follow their example.
Smith's fictional diary sees schoolboy Barry Loser set out to outsmart his bully Darren Darrenofski and prove that, despite his name, he is not actually a loser.
"The old adage that no one likes a loser is gloriously subverted with Barry who is both lovable and hilarious," said Rosen, who chaired the judging panel.
"The mix of words and drawings are a playful reminder of everyone's home-grown cartoons and the big nose motif has become a cult."
Smith, who is also head of design for coffee chain Puccino's and has created packaging for Marks and Spencer, published his first Barry Loser book last year and the fourth in the series is due next March.
"It's based on me when I was a kid, getting into scrapes and having flights of fancy," said Smith, who added that there would be at least six Loser books, as well as a spin-off based on Barry's TV hero Future Ratboy.
Rickerty's story, which contains just 41 words and illustrations, shows the battle between two creatures to claim a nut.
"I got the idea when I saw two parrots fighting over a peanut. Originally I was going to do squirrels, and then spiders, but the brightly coloured blobs worked better visually," explained Rickerty.
Rosen compared it to 18th-century classic Gulliver's Travels by Jonathan Swift.
"Just as Jonathan Swift told us about pointless battles over which way to put an egg in its cup, so Simon Rickerty has created a comically pointless struggle over a monkey nut, in its shell," said Rosen.
"With brio and inventiveness he fills the pages with splashes, squabbles, contrast and laughter," he added.
Both winners were awarded £2,500 at a ceremony at the Cambridge Theatre in London, the home of Matilda The Musical, based on Dahl's book.
Organised by the British literary charity Booktrust, the winner was decided by combining votes from a panel of judges and more than 400 school children from across Britain.