Graham Norton warned over World Aids Day ribbon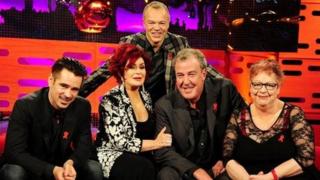 Graham Norton and his production company So Television have been reprimanded by the BBC after he wore a World Aids Day ribbon on air.
The presenter and his guests all sported the charity emblem on his BBC One chat show broadcast on 29 November.
BBC entertainment controller Mark Linsey said, although Norton "cares passionately about" World Aids Day, he was "in breach of BBC guidelines".
Wearing poppies in support of the Royal British Legion is the one exception.
Editorial guidelines state: "The BBC must remain independent and distanced from government initiatives, campaigners, charities and their agendas, no matter how apparently worthy the cause or how much their message appears to be accepted or uncontroversial."
The issue of Norton's World Aids Day insignia was raised in a letter to BBC in-house magazine Ariel by a member of staff who had been told on a training course that staff must remain impartial.
"Can you ask the powers-that-be what action has, or is, being taken as a result of this? Is it only 'talent' on big contracts who can flout rules if they disagree with them?" asked the letter.
In reply, Mr Linsey said: "The production company has been contacted and reminded that he cannot do this and Graham has accepted he was wrong to do so.
"The BBC has been assured it will not occur again."
The Graham Norton Show on 29 November was watched by an average of 3.29 million people.
All of the guests - Top Gear's Jeremy Clarkson, comedian Jo Brand, Hollywood actor Colin Farrell and X Factor judge Sharon Osbourne - were allowed to wear red ribbons to highlight World Aids Day, which took place on 1 December.
Deborah Jack, chief executive of the National Aids Trust, said it had raised concerns with the BBC over its policy on presenters wearing the ribbons.
"Public awareness of HIV is generally very low and HIV-related stigma persists, so celebrities wearing a red ribbon around World Aids Day sends out a really positive message," she said.
"If someone feels passionately enough to want to wear a ribbon that should be encouraged, not penalised. We hope the BBC will now rethink their policy on their presenters wearing red ribbons."