Daisy scrubs up for Downton Abbey Christmas special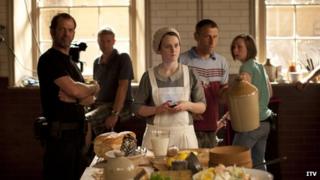 It's fair to say Daisy Mason isn't the most glamorous character in lavish ITV costume drama Downton Abbey.
But the downtrodden assistant cook's fortunes may be on the up in this year's Christmas Day episode, as she joins the Grantham family at their London residence.
Sophie McShera, who first took up drama as a hobby aged 12 before quickly landing a role in West End musical Goodbye Girl, has played dowdy Daisy since the first series of Julian Fellowes's hugely successful drama.
Her character has been at the centre of some gripping storylines over the years but later this month, we will see her breaking out of the kitchen - if only temporarily - as she catches the eye of an American gentleman in the capital.
"We got to go on location in London so that was quite fun, it was nice to escape the studios a little bit.
"I had a new outfit which is always exciting. It was a hand-me-down from Anna Bates - there's a new character coming in who takes a shine to Daisy. He mistakes her for a lady's maid as she looks that good in her new jacket!"
It marks a distinct change from the Daisy viewers have come to know and love, with her make-up-less face, scraped back hair and servant's apron.
"In seasons one and two, they wanted me to look really grubby," the actress explains.
"They'd slap so much grease in my hair, we'd film five or six days in a row so there was no point washing it in-between! I had black eyeshadow under my nails so they looked really dirty. She (Daisy) was doing the firewood then (the character began life as a scullery maid). Now I have slightly cleaner hair, so I have to wash it which is more annoying!"
McShera is barely recognisable from her on-screen character and indeed, admits she is rarely spotted by fans in the street.
"If I go to a press event or fancy thing and everyone goes 'you look so different', I go: 'I look so different to how I actually look because I'm at a party'!
"But it is dead good being a bit dowdy on the telly because it's never going to be 'Ooh, she doesn't look as good as she does on the TV.' And it is really fun when we get to go out and dress up."
Unusually this year, the Christmas Downton episode is not centred round the traditional festive celebrations, but takes place in the summer of 1923.
But McShera is confident the unseasonal feel to the show won't be a disappointment to viewers.
"Shirley MacLean's back and we have Paul Giamatti (who will play the wayward brother of the Countess of Grantham). I did a day or two with him, he was so lovely, really down-to-earth and approachable and I think he's a fan of the show. He didn't make you feel intimidated, he got on with everyone."
But it's not all been sweetness and light at the stately home.
Downton Abbey, which has been a hit on both sides of the Atlantic, caused a considerable amount of controversy earlier this year with its rape storyline.
What was McShera's reaction to the way the assault was portrayed?
"I watched it and I thought it was really beautifully acted. Jo (Froggatt) and Brendan (Coyle) were so brilliant, it was really well done and showed the repercussions in a really sensitive way. But it is horrible because you love that character and that couple. It made me cry."
It's clear that Bradford-born McShera, who has also starred in BBC One's Waterloo Road and ITV's The Job Lot, has a genuine affection for the character she is best known for.
"I do love Daisy - even when she turns into a super-bitch, I'm still rooting for her."
And her favourite Daisy scenes?
"I really loved all the stuff with William and the deathbed marriage, it was a really good storyline. I love all my little day to day things with Lesley (Nicol, who plays cook Mrs Patmore) because I just love working with Lesley.
"One time we went out to this party together and we both wore nearly the same leopard print - we had to have Mr Bates in-between us the whole time!"
Downton Abbey has made household names of its stars, which initially took McShera by surprise.
"It's really amazing, you don't expect all these things that have happened - it's brought some amazing opportunities, (like) going up for jobs that before I'd probably never have even got seen for.
"And I've made some really good friends that will be my friends forever."
The period drama has been one of ITV's most popular series in recent years, winning numerous Emmy awards and two Golden Globes.
McShera believes its success is down to a number of factors.
"There's a lot of leading characters and he (Fellowes) keeps everyone's storylines up, it's not just about two people. And there's unrequited love, every kind of love tale that you could have. The nice frocks maybe?"
The actress has no idea when Downton will end but it won't go on forever: "I think he (Fellowes) will want to finish it all off nicely before we all just don't work any more as characters and too much time has passed."
Her latest project is her biggest yet - Disney's live action version of Cinderella, directed by Kenneth Branagh and starring Cate Blanchett and McShera's Downton co-star Lily James.
McShera plays ugly sister Drizella.
"Cate Blanchett is my mum which is hilarious, she was so much fun to work with. Me and Holliday Grainger (who also stars in the film) watched Blue Jasmine the day before we met her so we were so in awe of her. She was so nice and generous and funny, we had the best time with her."
At least McShera will get to give the orders for a change - her Downton co-star, Lilly James, who plays cousin Rose in the drama, takes the lead in Cinderella.
While the actress acknowledges it was nice to have the roles reversed for once, she jokes: "Lily's definitely no Daisy - she looks beautiful in rags, it's really irritating!"
Meanwhile, McShera will return to Downton for the fifth series, due to air next year - its millions of viewers will be hoping it won't be the last.
Downton Abbey is on ITV on Christmas Day at 20.30 GMT.