Tulisa Contostavlos charged with drugs offence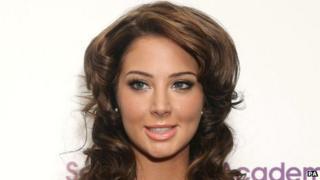 Singer Tulisa Contostavlos is to be charged "with being concerned in the supply of Class A drugs", the Crown Prosecution Service has confirmed.
"We have determined that there is sufficient evidence for a realistic prospect of conviction," Baljit Ubhey, London chief crown prosecutor, said.
The 25-year-old was arrested in June after the Sun claimed she introduced a journalist to a drug supplier.
In a statement, her lawyer said she would plead not guilty.
Rapper arrested
"In due course Tulisa will give a full answer to these allegations in court," said Ben Rose, claiming the case had been "manufactured" by a "greedy" newspaper.
"This case is not simply about drug supply," he went on. "It is about the limits which we set on the conduct of journalists."
The Metropolitan Police Service (MPS) has also charged Michael Coombs with supply of class A drugs.
The 35-year-old, known as rapper Mike GLC, was arrested along with Ms Contostavlos on 4 June.
"A man and a woman have today, 9 December, been charged in relation to an investigation into the supply of class A drugs," the MPS said.
"They have been bailed to appear at Westminster Magistrates Court on the 19 December."
'Entirely justified'
Ms Contostavlos rose to fame as a member of the dance group N-Dubz before serving as a judge on ITV's The X Factor from 2011 to 2012.
In its original report, The Sun claimed that half an ounce of cocaine changed hands as a result of the alleged deal.
The Sun said its investigation into the singer was "entirely justified in the public interest".
A spokeswoman for the newspaper said: "Ms Contostavlos is a self-described role model for young people and therefore has certain responsibilities. Throughout our investigation, our team followed the Press Complaints Commission Code and then handed over our dossier of evidence to the police.
"Allegations about the conduct of this newspaper made by Ms Contostavlos' lawyers are entirely without foundation."