Medieval Latin dictionary completed after 100 years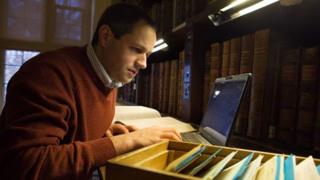 The final part of an epic dictionary of medieval Latin is to be published this week, bringing to a close a project initiated 100 years ago.
The Dictionary of Medieval Latin from British Sources has more than 58,000 entries and currently spans 15 volumes, the first of which came out in 1975.
The 16th and final volume is published by the British Academy on 11 December.
Academy president Lord Stern called it "the most comprehensive study ever" of medieval Latin vocabulary.
He said it had "enabled us to discover more about the English language and shown us that Britain has indeed been at the heart of humanities and social science since the 6th Century".
According to the British Academy, Latin was used by scientists, diplomats, philosophers and lawyers for more than 1,000 years after the end of the Roman empire.
The dictionary details the Latin language used in Britain between 540 AD and the year 1600, drawing its contents from the Domesday Book, the Magna Carta and thousands of other documents.
"During this project we were sometimes the first people to have read these documents for centuries," said Dr David Howlett, editor of the dictionary from 1979 to 2011.
"For the last hundred years the project has been systematically scouring the surviving British Medieval Latin texts to find evidence for every word and all its meanings and usage," said current editor Dr Richard Ashdowne.
"Much of this fundamental work was done in the early years of the project by a small army of volunteers, including historians, clergymen and even retired soldiers."
Dr Howlett has previously compared the task to "eating a bowl of concrete", telling The Oxford Times: "The task was huge, and has got bigger as we have gone along."
The last full entry of the dictionary, which the Academy has overseen since 1913, is for 'zythum', a form of beer.
The work's completion is being marked by a conference and a display at the Bodleian Library in Oxford.