Olivia Colman relishes spurned wife role in TV drama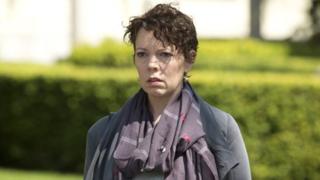 Actress Olivia Colman has said she was drawn to playing a spurned wife in BBC One drama The 7.39 because she enjoyed playing "an innocent" whose family life unravels.
The double Bafta-winning star plays the likeable Maggie, whose disgruntled husband meets another woman on a 07:39 commuter train to London.
Sparks fly between office worker Carl and gym manager Sally and, inevitably, Maggie and Sally's fiance Ryan are caught in the messy crossfire.
Written by One Day and Cold Feet writer David Nicholls, who describes it as a "love story", the drama features a stellar cast.
Carl is played by The Walking Dead's David Morrissey, while Bafta-winning Mrs Biggs star Sheridan Smith plays Sally.
Sally's fiance, gym instructor Ryan, is played by former EastEnders and Scott & Bailey actor Sean Maguire.
Broadchurch and Twenty Twelve actress Colman said Maggie "comes into play a little more in the second part" of the two-episode drama as she "tries to make sense of her husband changing".
"Rather than just liking it for Maggie, I liked it for the whole thing, watching [all of the characters'] journeys, thinking 'no, don't do it!'" she said, in reference to the affair.
She found the story "quite tense and upsetting" but could also understand why the affair happened. "You can also see why they would, and you also, sort of go 'go on, do it!'" she explained.
Colman sees Maggie as the "rock" of her family, saying one of the drama's strengths is that it explores the "upsetting" fall-out from the illicit relationship.
"It was lovely to play someone who's grounded and happy," she said.
"It starts to become more interesting to play when she starts to realise there are cracks forming. I suppose I particularly liked it because I knew there were really great bits in the script coming up for me."
She added that her screen husband Carl feels "unappreciated at all times, although Maggie loves him.
"He's feeling unloved, unwanted, unimportant at home and at work, and you can see why foolishly he wants to feel everything again.
"So you can see why [the affair] happens... he's just forgotten that the life he has is actually very nice, and the alternatives, he hasn't really thought about."
Colman also joked that Smith's character Sally was "frustratingly hot".
But she hesitated at the inevitable parallels being drawn between The 7.39 and David Lean's 1945 film Brief Encounter, another romantic drama set on a train that ends before there can be any consequences.
"Here you do see the fall-out, which I think is rewarding from an audience point of view," she said.
"You've put in the time to watch it and it's kind of important also to realise these fun moments, these little frisson moments on a train, there are going to be repercussions."
Although Colman's character does not do any commuting, she said she spent years working as a "terrible secretary" while establishing her acting career, and so could relate to the boredom of travelling by train to work.
"I hated the commute so much, I'd be struggling with bleary eyes on the train," she said. "The doors would open and people had their fists in each other's backs.
"It used to drive me nuts, and not getting a seat, or being near someone who has BO at eight in the morning, extraordinary."
Nicholls said he got the idea for "a pure, old-fashioned love story" after coming up with the idea of doing a drama based on a song. "The song we hit upon was [The Kinks'] Waterloo Sunset," he said.
"I liked the idea of this confinement, where two people are forced to spend time with each other in this island, this space, and how, over a period of time, their relationship might change".
Much of the drama is confined to a train, and the producers hired a train carriage for the filming.
"Even though commuting can be quite a gruelling experience, it has great potential for a bitter-sweet, romantic story," he said.
He cited films including Brief Encounter and Billy Wilder's The Apartment as "a big influence - that sense of lives stuck in a rut, and how characters might break out".
But he added that although Brief Encounter was "an extraordinary, brilliant love story... we set out to deal as much with the aftermath as the leading up to the affair".
The writer smiled as he made clear that there was "no autobiographical element" to the film.
Nicholls admitted that, as a cyclist, he does not encounter trains very often, and that "because I sit at my desk all day I can't claim any great research." So he asked other people about their experiences.
"Various people did offer up stories about looks and smiles on the train, watching someone sleeping and spotting the different relationships developing on the morning train ride," he added.
He decided to write a love story as there are "very few of them on television, for valid reasons - it can be very hard to make them work on television.
"I think love stories are given a bad press - it's something men are forbidden to watch, and I don't see why that should be the case.
"I think falling in love is a much more common experience than meeting a serial killer or being abducted, and yet it's very under-represented as subject matter on television," he added.
"Not all love stories stop at 34. I think it's an interesting subject, love and romance in middle age and later.
"The idea that complicated, emotional stories stop as soon as you have kids is really not the case," he added.
Nicholls, who wrote the successful relationship drama series Cold Feet for ITV, said he chose to limit The 7.39 to two parts as writing a long-running series with a love story makes "you go crazy pretty quickly".
"The will-they, won't-they thing only lasts for so long," he said.
Colman's final word is that perhaps The 7.39 might make tired couples with children appreciate each other slightly more.
"It's the old thing with kids, keeping a tally of who woke up the most times in the night.
"Hopefully it will come up that you let that go, and appreciate each other."
The 7.39 is on BBC One on 6 and 7 January at 21:00 GMT.