BBC News chief defends Mandela coverage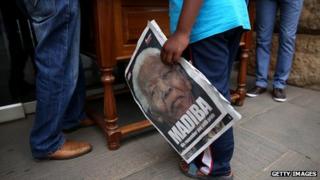 BBC News director James Harding has defended the extensive reporting on Nelson Mandela's death after the BBC received nearly 1,000 complaints.
BBC One interrupted programming to bring viewers the news and extended the News at Ten.
Many of the complaints were from those who felt the coverage was excessive given the worst storm surge in 60 years had hit the UK's east coast.
Mr Harding apologised but said Mandela was a man of "singular significance".
Two people died in the storm.
Mr Harding told the BBC's Newswatch programme: "Firstly, I'm sorry if there are people who felt as though we didn't inform them fully of what was happening in the weather.
'Defined freedom'
"In addition to that, there's a lot of news that's rolling, you're seeing President Obama come out and make comments, David Cameron comes out to make comments. The BBC, and only the BBC, managed to get former president FW de Klerk.
"But we are probably talking about the most significant statesman of the last 100 years and a man who has defined freedom, justice, reconciliation, forgiveness."
When asked if more reaction to Mandela could have been put online rather than on the main news bulletin to allow for more weather coverage, Mr Harding said: "I completely take your point about the weather, what's happening in people's communities matters enormously.
"We'd been rolling weather coverage from early in the day, particularly when the storms were at their strongest. Had we seen real breaking news on the weather which meant we had to inform people immediately, we would have done so."
Mr Mandela died aged 95 last Thursday.
South Africa is observing a series of commemorations over the next week, leading up to the funeral on Sunday.
Mr Mandela was elected South Africa's first black president after he spent 27 years in prison.