Pedro Almodovar blasts Spanish government at European film awards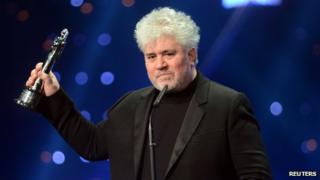 Spanish director Pedro Almodovar has attacked his homeland's government as he accepted an honorary prize at the European Film Awards in Berlin.
The 64-year-old filmmaker called it "deaf and insensitive" to the country's problems and railed against its "awful cultural policy".
Spanish state funding to the arts, including film, has been drastically reduced in recent years.
Almodovar called 2013 "the worst year" for his industry.
Furthering his scathing broadside at the ruling Popular Party's austerity measures, the Volver director saluted "the resistance of the citizens who are victims of this government".
Politics also figured in the acceptance speech given by the evening's best actress winner, Belgium's Veerle Baetens.
The star of domestic drama The Broken Circle Breakdown spoke out against renewed calls to make Belgium's Flanders region independent, saying her country had "a special thing" that should not be broken.
Great Beauty
Baetens' success came at the expense of Keira Knightley, who was nominated alongside her in the European actress category.
Knightley's Anna Karenina co-star Jude Law also missed out, with the European actor award going instead to Italy's Toni Servillo for The Great Beauty.
It was a good night for Paolo Sorrentino's satirical look at Roman high society, which also took home the best film and best director statuettes.
Joe Wright's Tolstoy adaptation was recognised for Sarah Greenwood's production design, the only Briton to be honoured at Saturday's event.
Denmark's Love is All You Need - starring Pierce Brosnan as a widower who finds love again - picked up the European comedy prize, beating Almodovar's airborne farce I'm So Excited.
Italian veteran Ennio Morricone was crowned best composer, while Israel's Ari Folman received the animated feature prize for his part-animated fantasy The Congress.
The Act of Killing - a British-Danish-Norwegian co-production - collected the best documentary prize for its hard-hitting look at the perpetrators of an Indonesian genocide.
Romanian producer Ada Solomon, meanwhile, quoted the late Nelson Mandela as she received the prize for European co-production, recalling his famous observation that "it always seems impossible until it's done".
'Queen of cinema'
The French actress Catherine Deneuve picked up a lifetime achievement accolade for a career that has seen her appear in more than a hundred films across five decades.
The star of Repulsion and The Umbrellas of Cherbourg said she "felt more European than ever" as she accepted her prize from German director Wim Wenders.
Wenders, president of the European Film Academy (EFA), saluted the 70-year-old as a "a goddess", calling her "a queen of European cinema" and "a person of great inner strength".
Diane Kruger, Noomi Rapace and Kristin Scott Thomas were also on hand to present awards, while Dutch actress turned singer Carice van Houten supplied the music.
Presented at Berlin's Festspiele arts centre, the 26th European Film Awards were broadcast live in 15 countries and were also streamed online.
Next year´s event will be held in the Latvian capital Riga.