Angela Rippon feted at Women in Film and Television Awards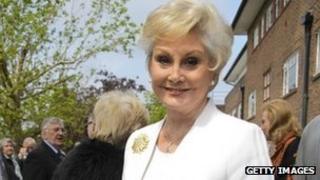 Veteran broadcaster Angela Rippon has been honoured for her contribution to the industry at the Sky Women in Film and Television Awards.
Rippon's career has spanned more than 50 years - as a BBC newsreader as well as a presenter on shows such as Come Dancing and Rip-Off Britain.
She also made a memorable appearance in a Morecambe and Wise sketch.
Other winners were Sheridan Smith, Call the Midwife producer Pippa Harris and academic Mary Beard.
Comedian Ruby Wax hosted the event at the Park Lane Hilton.
Actress Sheridan Smith was honoured for role in ITV miniseries Mrs Biggs, in which she played the wife of one of the great train robbers. She won a Bafta TV award for the same role.
Mary Beard, who has presented programmes on the classics, was given the NEP Visions Presenter Award "recognising her valuable contribution as one of television's too few on-screen female academics".
Pippa Harris was recognised for her work as executive producer on Call the Midwife, one of the BBC's most successful new drama series of the past decade.
The UK new talent award was given to screenwriter Kelly Marcel, who created the Steven Spielberg series Terra Nova, as well as being picked to write the screenplays for Fifty Shades of Grey and Saving Mr Banks.
Women in Film and Television chief executive Kate Kinninmont said: "This year's winners are an outstanding group of women.
"I'm particularly delighted to see women coming to the fore in really tough areas, whether it's Anna Hall winning for her work on British sex gangs, Penny Woolcock taking on gang culture or Ronke Philips unearthing the true identity of the poor tortured boy previously known only as 'the torso in the Thames'."