Nelson Mandela death: Entertainment world pays tribute to Mandela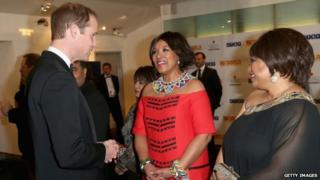 The news of the death of Nelson Mandela broke during a royal gala screening of the biographical film Long Walk to Freedom in London.
The screening was attended by Prince William and the Duchess of Cambridge, as well as two of Mandela's daughters.
Idris Elba, who plays the former leader in the film, called it an "honour to step into the shoes of Nelson Mandela".
Prince William, who attended the screening, said the news was "extremely sad and tragic".
The film is based on Mandela's autobiography, published in 1995, and recounts his life from his childhood, through his 27 years behind bars, mostly in Robben Island prison, to becoming South Africa's first black president in 1994.
Two of Mandela's daughters - Zindzi and Zenani - were at the screening at the Odeon in Leicester Square when they were told of the death of their father.
Although they left the cinema, they insisted that the film continue. Producer Anant Singh, who Mandela personally awarded the book rights to, announced the death at the end of the screening, and asked for a moment of silence.
British actor Elba later said: "What an honour it was to step into the shoes of Nelson Mandela and portray a man who defied odds, broke down barriers, and championed human rights before the eyes of the world. My thoughts and prayers are with his family.''
Also at the screening was Hollywood producer Harvey Weinstein, whose film company is behind the movie. "We count ourselves unspeakably fortunate to have been immersed in Nelson Mandela's story and legacy," he said.
"It's been an honour to have been granted such proximity to a man who will go down as one of the history's greatest freedom fighters and advocates for justice.
"I have had the privilege of spending time with President Mandela and I can say his sense of humour was as great as his optimism.''
'Saint'
Morgan Freeman, who played Mandela in Invictus, joined in the mass of tributes from the entertainment world: "Today the world lost one of the true giants of the past century," said Freeman.
"Nelson Mandela was a man of incomparable honour, unconquerable strength, and unyielding resolve - a saint to many, a hero to all who treasure liberty, freedom and the dignity of humankind."
American actor Dennis Haysbert portrayed Mandela in 2007's Goodbye Bafana, about the relationship between Mandela and his prison officer.
Haysbert said: "Portraying Nelson Mandela... was a defining moment in my life and my career. We as a society, have been blessed to live in a time that Nelson Mandela has lived, loved, and led.
"What he has done for his country, his countrymen, and everyone on this planet may not be achieved again. Ever. I will always honour him as a saint.''
Music producer Quincy Jones said: "Today, as it did while he inhabited our planet, Nelson Mandela's spirit truly soars with the angels.
"It was a spirit born of a generosity, love, compassion and hope for mankind that may never exist at such a heightened level in any single human being again. One of the most profound honours that I have had in my life was to be able to call Madiba my friend and brother."
And singer Aretha Franklin said "a great man has passed on and moved on up a little higher".
She added: "Most extraordinarily was how he rose above his being imprisoned and exalted himself above apartheid and hatred to unite the country - an unbelievable example of humanitarianism and courage."
Jerry Dammers of The Specials fame wrote the song Free Nelson Mandela in 1984, under The Special AKA moniker, as a protest at Mandela's incarceration.
Dammers said: "I met him very briefly twice. I found myself part of the mob that surrounded him, wherever he went after his release from prison, which must have been quite hard for him, but his endless positivity meant he always remained incredibly good-natured, friendly and smiling
"One thing that inspired me to write the song Free Nelson Mandela was his statement, that any attempt to get rid of apartheid was welcome.
"In other words, whether your actions appear to have any instant effect or not, every little bit helps.
U2 frontman Bono collaborated with Mandela on charity issues including poverty in South Africa, as well being a vocal campaigner for his release from prison.
He said: "It was as if he was born to teach the age a lesson in humility, in humour and above all else in patience.
"In the end, Nelson Mandela showed us how to love rather than hate, not because he had never surrendered to rage or violence, but because he learnt that love would do a better job.
"Mandela played with the highest stakes. He put his family, his country, his time, his life on the line, and he won most of these contests.
"Our eyes were opened to so much because of him."