'Underrated' fifth Beatle becomes comic book and film star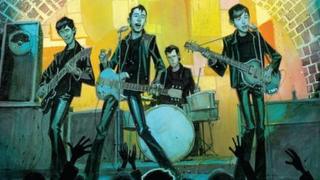 Brian Epstein was just 32 when he died in 1967. His death, caused by an accidental overdose from a sedative, shocked the millions who knew him as manager of The Beatles.
Interest in his life has never gone away: he is the subject of a new graphic novel and a feature film is planned for next year.
The man behind both projects thinks Epstein's role in the success of The Beatles is still underrated.
Vivek Tiwary chose the title for his first graphic novel very carefully - The Fifth Beatle.
"As Beatles manager Brian Epstein never really set out to influence the music. The creative energy came from the band, with the guidance in the studio of George Martin.
"But it was Brian who made The Beatles the most famous group in the world. There's been no one like them since, and no one like him either."
On Broadway, Vivek Tiwary has co-produced shows such as American Idiot and The Addams Family. Before that he worked in the music industry. He's long wanted to explore Epstein's life on film.
"But to begin with, I wrote a graphic novel about him, with Andrew Robinson and Kyle Baker supplying the images. Call it a graphic biography if you like.
"I'm proud of how much of Brian's personal and professional life we got into 150 pages of artwork.
"His influence on the music scene was immense. In some ways, he invented what the manager of a pop band is supposed to do. But there's another reason why I think he's fascinating.
"Brian was a gay man living in a country where gay sex was still a felony. The year he died, 1967, was supposed to be the Summer of Love. But that was only if you happened to be into the right variety of love.
"Naturally I hope our book will be a treat for fans of The Beatles. But what inspired me even more was the human struggle Brian Epstein faced.
"His homosexuality and his attitude to it wasn't the whole story, but it was a big part of it."
The book shows Epstein pre-Beatles working at NEMS, the retail business built up at various addresses in Liverpool by his father Harry. It hurtles through his years at public school (Wrekin College in Shropshire) and some emotionally bruising encounters during national service.
A different time
Though Tiwary admires Epstein hugely, his new book makes clear that his years of success with the Beatles also featured an increasing taste for pills and one-off sexual encounters.
The journalist Hunter Davies knew Brian Epstein well. He was the only writer Epstein authorised to write a biography of the band, still in print 45 years later.
"Paul McCartney helped me get the vital meeting with Brian: Paul's always been very charming and PR-oriented," he explains.
"So in January 1967 I went to see Brian at his house in Chapel Street in Belgravia about my plan for a Beatles book. It was the most beautiful place. I remember two lovely LS Lowry paintings on the wall.
"Brian agreed a contract and I thought well here's a coup so I phoned my agent to come and sort out the details immediately.
"In fact the head of the agency, Spencer Curtis Brown, turned up instead. It was totally unheard of but in 1960s London, everyone wanted to meet Brian Epstein. He was bigger than royalty."
Davies says Epstein's homosexuality was well known to his inner circle, including the four Beatles, but was seldom referred to directly.
"It was a different time. Brian was mostly attracted to what people then called butch boys - soldiers or sailors or whoever.
"He'd get them back to his house and sometimes they would beat him up. They'd run away with things like Beatles acetates and he'd be full of guilt and anguish and depression. He'd end up full of pills in a sorry state.
"I can't believe looking back he was only two years older than me. At 30, he was the most sophisticated and beautifully dressed and cultured man.
"In those days people said 'Oh the one he really likes is Paul' but I never thought that was true.
"I think he was most fascinated by John, but he loved them all. And they loved him.
Learning on the job
"You have to realise that Brian was the first middle-class person to take an interest in the Beatles. He had this very public school, RADA persona, of total competence. In fact, like The Beatles, he was learning on the job.
"Just because he ran a record shop in Liverpool didn't mean he knew the head of EMI or Decca or knew how the music industry worked. Yet he always managed to give that impression."
By the time Davies' book came out, Epstein was dead of what the coroner concluded was an accidental overdose of sleeping pills.
"Even as I wrote the book, it was clear The Beatles needed Brian less than they had. Perhaps that was inevitable. But I like to think that had he lived, he would have stayed with them.
"Perhaps with his mixture of firmness and charm he might have steered them away from all the tensions which finally broke up the band.
"Brian had a lot of front but he was a lovely man. He was like an old-style impresario. He did so much in his life that it's amazing to think he was only 32 when he died."
Vivek Tiwary is sure the time is right to take the Epstein story to the big screen.
"It's a great story - the gay Jewish guy from Liverpool who overcame all that prejudice. We've already overcome one big hurdle because we've successfully negotiated access to the original Beatles tracks. That's always been a problem for movie projects in the past."
Peyton Reed has been announced as director but Tiwary remains cautious about his casting ambitions.
"I think it will probably be a British actor playing Brian, though I'm keeping an open mind.
"But more than anything I'm glad we'll be able to bring to the screen something like the reality of Brian Epstein's life. It's surprising but his story really isn't that well known."
Last year, the Hollywood Reporter reported that Sherlock star Benedict Cumberbatch had been linked to another Epstein biopic.
Vivek Tiwary hopes filming for The Fifth Beatle will begin in 2014. For now we have the graphic novel version.
Perhaps the most acute comment it contains concerning the relationship between The Beatles and Brian Epstein comes in a brief preface by former Rolling Stones manager Andrew Loog Oldham.
"Brian told them who they could be and helped them become it. If Brian had loved himself as much as he loved the Beatles he may still have been with us today."
The Fifth Beatle is out now.