Let the Right One In shocks at Royal Court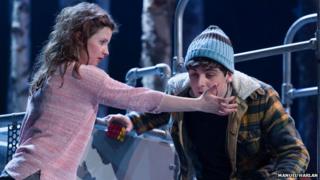 A blood-soaked stage version of Swedish vampire story Let the Right One In has opened at London's Royal Court and aims to attract more teenagers to the theatre.
"It's totally a love story," director John Tiffany said on Thursday's opening night.
"I do like horror films but I wouldn't ever be interested in putting a horror on stage - blood doesn't equal horror."
Jack Thorne's stage adaptation is based on the story by John Ajvide Lindqvist.
It tells the story of the relationship between Oskar, a lonely bullied schoolboy, played by Martin Quinn, and Eli (Rebecca Benson), a centuries-old vampire who befriends him.
The National Theatre of Scotland production premiered at Dundee Rep this summer and is set for a West End run.
Described as being "for adults and fearless teens aged 13+", the play contains many gory scenes. On Thursday's opening night, a shock moment made many audience members jump out of their seats.
First love
Tiffany, whose previous productions include the musical Once and Black Watch, said the story was very relevant to a teen audience.
"It's about first love and your relationship with your parents and peers - and the supernatural. The forest has always been seen as an allegory for puberty, and that plays a big part in our production."
The production sees the main stage at the Royal Court stage transformed to a snowy Scottish forest. It features choreography from Tiffany's long-time collaborator Steven Hoggett and a haunting score by Olafur Arnalds, whose recent TV work includes Broadchurch.
Thorne said his script contained "much more on sexuality" than the two cinema versions: Tomas Alfredson's Swedish-language original in 2008, and Hammer's English-language remake in 2010.
The Bafta-award winning writer, whose TV work include Skins, The Fades and This Is England 88, said the character of Eli was "head and shoulders above any teenage vampire I've ever seen".
Live entertainment
Early reviews have been largely positive. In his four-star review for the Evening Standard, Henry Hitchings called the play "a tender piece that's also laced with savagery".
In The Stage, Aleks Sierz wrote that Thorne's "fast-moving" version "casts many dark shadows".
Libby Purves, on her TheatreCat website, noted an "impressive debut" from Martin Quinn as Oskar.
Eli, she added, was "played with extraordinary power" by Rebecca Benson who spoke "with the halting questioning strangeness of autism, moving with catlike agility, perching, pouncing, shivering".
Less impressed was the Daily Mail's Patrick Marmion who acknowledged the "top drawer" acting and "deftly handled" shocks, but concluded: "You're still better off watching the subtitled film."
When she announced her first season at the Royal Court earlier this year, new artistic director Vicky Featherstone said she hoped the offer of £10 tickets would encourage teens to visit the theatre "instead of going to the cinema".
Tiffany told the BBC at Thursday's opening night that it was his job to make the play "unmissable".
"How do we compete with the 3D superscreens at the cineplex? We just make it better - because theatre is better because it's live. Instead of trying to be like the poor cousin we need to accept that we're the king."
He added that the show felt perfect for the Royal Court Christmas slot.
"I said to one of the photographers yesterday, 'It's really festive isn't it?' He said, 'Maybe the snow, but not the blood'. And I said, 'You've not been to my house for Christmas!"
Let The Right One In, at the Royal Court until 21 December, is sold out apart from £10 Monday tickets and £10 tickets for teenagers only.