NUJ union settles Lucy Adams legal action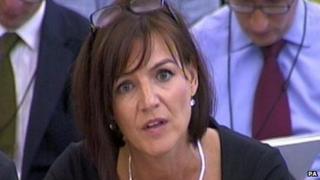 The NUJ has settled legal action brought by BBC HR director Lucy Adams and has apologised for falsely accusing her of a "dirty tricks" campaign against its members.
The NUJ said it "did not intend" to suggest she "had led a dirty tricks campaign or that there was any criminal activity on her part whatsoever."
"The NUJ apologises to Lucy Adams for making these allegations."
The union has agreed to pay Ms Adams legal costs, said to be about £10,000.
The statement by the NUJ earlier this week set out to "clarify" remarks contained in an article entitled 'BBC dirty tricks including hacking NUJ members' emails', published on its NUJ website on 30 August this year.
"It was the intention of the article to make a broader criticism of management practices at the BBC, which the NUJ will continue to address through the appropriate industrial channels," the statement said.
"We have agreed not to repeat these allegations and both parties now draw a line under the dispute."
A BBC spokesman said: "We're pleased this issue has been resolved. The BBC hopes it can work constructively with the NUJ in the future."
'Personal attack'
In August, Ms Adams - who is paid £320,000 a year - announced she would leave the corporation in March 2014 without any severance pay.
A day after her departure was announced, the NUJ published the disputed article. Their claims were instantly dismissed by the BBC as "false and without foundation".
Ms Adams later announced she was suing the NUJ for defamation over "an unwarranted and very personal attack".
Last month, the BBC confirmed it had "agreed to fund the reasonable costs of Ms Adams seeking external legal advice".
Freedom of Information requests are understood to have been submitted, asking how much those legal costs - to be picked up by the NUJ - will be.