Royal prank call DJ Mel Greig resigns from 2Day FM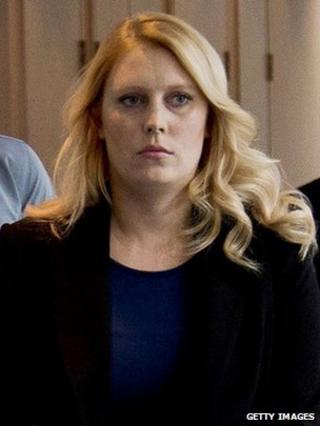 One of the DJs at the centre of a royal prank call, linked to the death of a British nurse, has resigned from Australian radio station 2Day FM.
Mel Greig, who will leave her post at the end of December, has also dropped legal proceedings against her employer Southern Cross Austereo (SCA).
Greig launched a claim against the company in July, claiming it failed to maintain a safe workplace.
An SCA statement said the dispute had been "amicably resolved".
Exactly one year ago, Greig and her co-host, Michael Christian, made a prank call to the King Edward VII hospital where the pregnant Duchess of Cambridge was being treated for morning sickness.
The pair pretended to be the Queen and Prince Charles seeking information on the Duchess's condition.
Nurse Jacintha Saldanha, who answered the phone, transferred the call to a colleague. The 46-year-old was found hanged three days later.
The incident prompted widespread criticism of the DJs, who apologised in the wake of the incident.
Greig has remained off air but co-host Christian returned to work two months later.
'Not unlawful'
Greig wanted it "made clear" that she was not responsible for the decision to broadcast the call.
In the statement about Greig's departure from the company, Southern Cross Austereo reiterated its position that recording and broadcasting the call was "not unlawful".
It also said 2Day FM decided to broadcast the call despite suggestions from Greig that it should be changed. It stressed that SCA had "at all times taken complete responsibility for the hoax call".
"The company maintains its view that the recording and broadcast of the call was not unlawful".
In February, the UK's Crown Prosecution Service decided there was insufficient evidence to charge Christian and Greig with manslaughter over Mrs Saldanha's death.
Greig is expected to give a statement at the inquest into Mrs Saldanha's death. SCA added that they would also co-operate fully.
"Southern Cross Austereo greatly regrets the unforeseeable tragic aftermath of the call and the company and all of its people remain deeply saddened by the death of Jacintha Saldanha," said the statement.
"Southern Cross Austereo has contributed a substantial amount to a trust which was recently established to assist Ms Saldanha's family. Mel Greig also wishes to pass on her personal condolences and regrets to the Saldanha family."