David Birrell wins damages from Donmar over stage blinding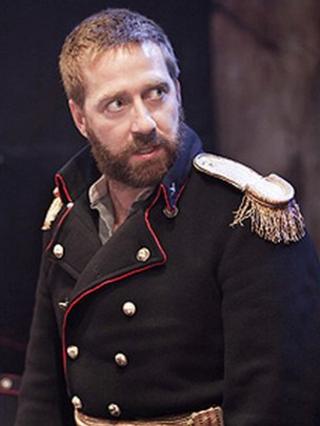 Actor David Birrell has received "substantial" damages after being blinded in his right eye when a prop gun misfired at the Donmar Warehouse.
The accident happened during an onstage duel at the London theatre in October 2010, as Birrell starred in a revival of Stephen Sondheim musical Passion.
Acting union Equity, which represented Birrell in his compensation claim, confirmed the case had been resolved with an undisclosed settlement.
The theatre had admitted liability.
Birrell, who was hurt while firing a blank from a replica Colt 1851 Navy revolver, had initially sought damages of £250,000 for the effect the injury had on his career.
In a statement to Equity's in-house magazine, he refused to comment on the case, except for putting the "positive outcome" down to having the union's "backing and security".
"Without the support, assistance and encouragement of Equity and its solicitors, I could never have hoped to fight this difficult, lengthy and complex case in the way we did, had I not been a member," said Birrell.
The Donmar Warehouse told The Stage: "The Donmar has nothing further to add other than to restate that the company's priority throughout has been and continues to be David Birrell's welfare."
Papers filed at the High Court last July revealed the actor suffered "total and permanent blindness in the right eye" after the gun "ejected rearwards and at high velocity".
It said the accident left Mr Birrell's eye "shrunken and unsightly", which has forced him to now wear "a cosmetic shell" to disguise its appearance.
Although he is still receiving treatment for the injury, Birrell has now been able to return to the stage.
He recently concluded an appearance as the lead in Sweeney Todd, a co-production between the West Yorkshire Playhouse and Royal Exchange Theatre in Manchester.