Ripper Street: BBC axes Victorian crime drama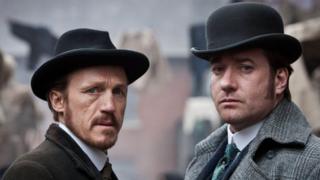 BBC One period crime drama Ripper Street is not returning for a third series, the broadcaster has confirmed.
The serial was trounced in the ratings by ITV's I'm A Celebrity... Get Me Out of Here and has been axed "to make room for creative renewal", the BBC said.
Actor Jermone Flynn first revealed the news on BBC London 94.9, and urged commissioners to reconsider.
"We're all in absolute shock because it's a wonderful job," the show's star told the radio station.
A BBC spokesman said: "We are very proud of Ripper Street which has enjoyed two highly ambitious series on BBC One."
"However, the second series didn't bring the audience we hoped and in order to make room for creative renewal and new ideas it won't be returning."
The drama, also starring Matthew Macfadyen, is set in Victorian east London, and its characters are charged with solving the area's grisly and mysterious crimes.
Speaking on Simon Lederman's evening show, Flynn said the role of police officer Bennet Drake was "one of the most captivating characters that I've played".
"So, suddenly, it's like a marriage being broken," he added.
The first series of Ripper Street, set in Whitechapel following the notorious killings of Jack the Ripper, attracted nearly eight million viewers when it launched last year.
But the most recent episode, aired on Monday 2 December, drew in around 3.2 million viewers, and was pitched against ITV's celebrity jungle show, which attracted 8.8 million people.
Julia Raeside, writing in The Guardian's TV and radio blog, said the idea of I'm A Celebrity... crushing the "beautifully made" Ripper Street was like "a flamethrower melting a snowflake".
The decision comes just weeks after ITV announced the end of Whitechapel, about a modern crime unit investigating murders in east London.