Thomas Heatherwick honoured by UK Critics' Circle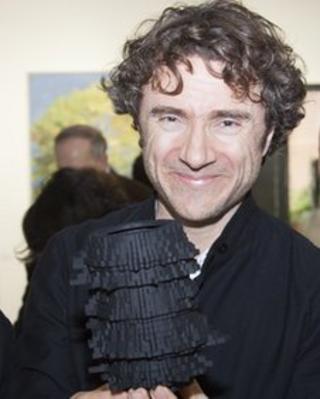 Thomas Heatherwick, the man behind the London 2012 cauldron and the city's new Routemaster bus, has been honoured by critics for his achievements in design.
The 43-year-old designer was saluted for his "unstoppable enthusiasm" by the UK Critics' Circle as he received its visual arts and architecture award.
Heatherwick, whose latest scheme is to build a pedestrian garden bridge across the Thames, was made an OBE this year.
"One of the biggest challenges is to make things happen," he told the BBC.
"It's very hard to build anything these days, but to build something that's special is even harder."
Heatherwick is best known for the "petal" cauldron that was unveiled at the close of the London 2012 opening ceremony.
The elaborate centrepiece of last year's Olympics and Paralympics was honoured earlier this year at the South Bank Sky Arts Awards.
It was alleged in June that its design was based on an earlier proposal presented to organisers in 2007, a claim Heatherwick dismissed as "spurious nonsense".
The New York design studio involved subsequently denied accusing him of plagiarism but maintained its "narrative scenario" had "proved inspirational".
A public consultation is currently underway on Heatherwick's garden bridge proposal, which originated from an idea by actress Joanna Lumley.
It is hoped work on the 370m long walkway can begin in 2015 if sufficient funds are raised to build and maintain it.
"My passion is to try and make projects that will mean something to people," said Heatherwick, whose other work includes the UK Pavilion built for 2010's Shanghai Expo.
The designer is the third recipient of an award previously presented to architect Sir David Chipperfield and Peter Murray, founder of the Yorkshire Sculpture Park.