Christmas TV: Downton Abbey pitted against EastEnders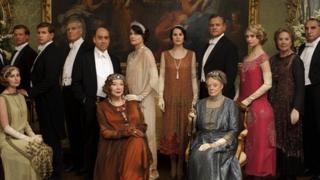 The Christmas Day episode of Downton Abbey will be pitched directly against EastEnders, according to TV schedules.
The seasonal outing of ITV's popular period drama will be screened at 20:30 GMT - the same time as BBC One's flagship soap.
Doctor Who will be screened at 19:30 GMT, going head to head with an hour-long Coronation Street on ITV.
Downton's third Christmas special sees the action shift to 1923 and has US actor Paul Giamatti joining the cast.
The two-hour episode centres on the Crawleys' wayward family member Rose being presented at Buckingham Palace, a grand occasion that sees Cora's mother Martha - played by Shirley MacLaine - return to the drama.
It will also see Giamatti makes his Downton debut as Martha's brother Harold, who was in trouble with the law at the end of the last series.
The show's producers are keeping tight-lipped about the fate of Lady Edith and her pregnancy, saying only that she is "wrestling with a moral dilemma".
Last year's Christmas Day special climaxed in the unexpected death of Downton heir Matthew Crawley, leaving behind his wife, Lady Mary, and their newborn son.
Its first hour overlapped with EastEnders in 2012. Final audience figures gave EastEnders the edge, scoring 11.2 million viewers over Downton's 10.2 million.
This year the second hour of Downton Abbey's seasonal special will be up against BBC One sitcom Mrs Brown's Boys.
The Christmas Day episode of Doctor Who will see Matt Smith battle deadly enemies, including the Daleks and the Cybermen, before regenerating into Peter Capaldi.
In BBC One's schedule, the sci-fi drama finds itself sandwiched between Call the Midwife and EastEnders.
Albert Square will see the arrival of a new landlord for the Queen Vic pub, Mick Carter, played by Danny Dyer.
The ongoing murder storyline involving Janine Butcher is also expected to figure highly in EastEnders' hour-long special.
On the cobbles of Coronation Street, producers have revealed that Leanne and Nick Tilsley's relationship will take a turn for a worse.
Yet the tragic storyline involving long-serving character Hayley Cropper is not expected to end until early next year.