Laure Prouvost's Turner Prize art to have Cumbria show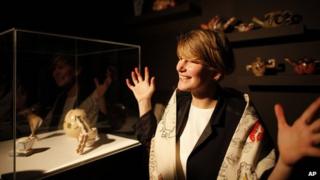 This year's Turner Prize-winning artwork will go on show in the Cumbrian village where it was conceived and created.
Laure Prouvost won the prestigious contemporary art prize on Monday.
Her installation Wantee was made in Coniston, inspired by the pioneering artist Kurt Schwitters, who lived in the area in the 1940s.
It will move from the Turner Prize exhibition in Londonderry to the Ruskin Museum in Coniston on 24 January.
At Monday's ceremony in Derry, the current UK City of Culture, judges described Prouvost's work as "unexpectedly moving".
It includes a film about her fictional grandfather, who she imagined to be a conceptual artist and a friend of Schwitters, which plays in a room styled as a tea party.
Her installation is named Wantee in honour of Schwitters's companion Edith Thomas, who had a habit of asking "Want tea?"
Prouvost's work was made for Tate Britain's recent Schwitters exhibition and was a joint commission by Tate and the Coniston-based Grizedale Arts.
Grizedale Arts deputy director Alistair Hudson said: "Laure's project was especially rewarding because it was such a collective effort between us, the artist and our colleagues at Tate, local artists and craftsmen such as Peter Hodgson and Coniston Youth Club who helped with the construction of the set and developed some of the content."
The Coniston exhibition will open with a performance in which Prouvost and the youth club will serve tea in the village hall as a spoof fundraising event to help find her invented grandfather.