Doctor Who beats Olympics ceremony on iPlayer requests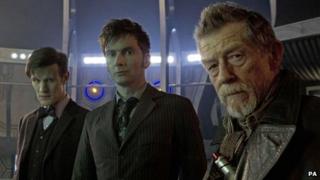 The 50th anniversary Doctor Who special has set a new iPlayer record for getting the most requests in 24 hours, 1.27m - beating the Olympic opening ceremony's previous high.
New consolidated figures show 12.8m people saw The Day of the Doctor on BBC One, including 2.9m iPlayer requests, making it 2013's most-watched drama.
The 23 November episode starred Matt Smith, David Tennant and John Hurt.
It was also the most tweeted-about drama, generating 442,692 tweets.
During the opening moments of the 75-minute broadcast, the conversation peaked at nearly 13,000 tweets per minute.
The special was simulcast around the world, screening in 834 cinemas across 94 countries, and breaking the record for the largest worldwide TV drama simulcast.
BBC One's original overnight figures for the episode, which also starred Jenna Coleman and Billie Piper, were 10.2m with a peak of 10.6 million.
"The Doctor Who 50th was a hugely ambitious event on the BBC and it's only fitting that it has taken the top spot as the highest-rating drama across all channels this year," said Ben Stephenson, controller of BBC drama commissioning.
"It's a fantastic tribute to both [writer and executive producer] Steven Moffat and the creativity of all those involved in the show throughout its history."
He added: "Next stop the regeneration at Christmas!"
The Doctor Who Christmas special, featuring Matt Smith's final outing as the Doctor before he is replaced by Peter Capaldi, will air on 25 December at 19:30 GMT.