Jude Law's Henry V 'reigns supreme'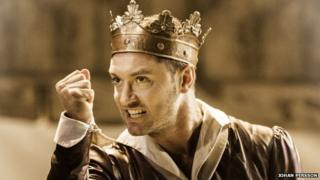 Jude Law's performance as Shakespeare's Henry V is being crowned a success by West End critics.
"This is one of the richest and most detailed performances of Henry V that I have ever seen," enthuses The Telegraph's Charles Spencer in his five-star review.
He describes the play as admirably "fleet and dramatically gripping."
The production completes Michael Grandage's 15-month season of five plays at the Noel Coward Theatre.
Among the audience on Tuesday's opening night were acclaimed Shakespearean actor Sir Derek Jacobi and Richard E Grant, who stars with Law in the British crime comedy film Dom Hemingway.
Henry V sees Law and Grandage continue a collaboration that began with Hamlet in 2009 at London's Donmar Warehouse, and continued with Anna Christie in 2011.
The set, designed by Christopher Oram, strongly suggests the "wooden O" of the Globe Theatre referred to in the play's famous prologue.
Awarding the play four stars, The Guardian's Michael Billington says Law delivers "a fine portrait of a flawed hero".
"Like the recent Donmar Anna Christie, it also shows Jude Law maturing with age and getting under the skin of a character. His complex portrait of a national hero-cum-war criminal is, you could say, the very antithesis of a hooray Henry."
The Independent's Paul Taylor also picks up on Law's maturity as an actor.
"You could argue that Law has left it not a moment too soon to tackle the part," he says in a four-star review.
"With his receding hairline and the bags under the eyes, he's looking a bit lived-in for the warrior monarch whose youthfulness is mocked by the Dauphin of France.
"But in his leather jerkin and distractingly tight trousers, he cuts a commanding figure and Law here vividly blends the kind of natural charisma that can rouse tired troops with a brooding spiritual uneasiness that has its affinities with Hamlet."
Kate Bassett, who awards Henry V four stars for The Arts Desk, says Law "reigns supreme" in the role.
"Law's wide-shouldered torso, in a leather doublet, suggests a trace of brawny yobbishness.
"Itching to start a fight across the Channel, he twitches even whilst listening astutely to his advisors. His rage, ignited by a cousin-turned-traitor, is also strikingly shot through with near-tearful distress."
In his three star-review, the Evening Standard's Henry Hitchings notes "a deftly constructed performance that does justice to the character's complexity, though a touch more volatility is needed".
He says Grandage's "fluent" interpretation stripped about half an hour off the usual running time. But, he adds, "as it drives along efficiently, it occasionally seems oddly colourless."
While the cast is mostly in period costume, the Chorus (Ashley Zhangazha) appears in a punky Union Jack t-shirt, and later doubles as the boy who mixes with the soldiers on the battlefields of France.
"His intensity gives a surprised, excited vigour to the narrative," writes Libby Purves on the theatreCat website. "In the interval we find him lounging on the stage, reading, apparently engrossed in that earlier England's story. It draws you in."
The supporting cast, which includes Matt Ryan as Welsh soldier Fluellen and Jessie Buckley as Princess Katharine, also receives high praise in many reviews.
"The great Ron Cook is in scene-stealing form as the cynical and hilariously choleric Pistol," says the Telegraph's Spencer. "While Noma Dumezweni as Mistress Quickly delivers the wonderful speech about the death of Falstaff, one of the most moving moments in the whole of Shakespeare, with a magical mixture of humour and depth of feeling."
Michael Grandage's season of five plays began almost exactly a year ago with Privates on Parade, and continued with John Logan's new play Peter and Alice, The Cripple of Inishmaan, and A Midsummer Night's Dream.
As well as Jude Law, the star casting included Simon Russell Beale, Dame Judi Dench, Ben Whishaw, Daniel Radcliffe, Sheridan Smith and David Walliams.
When he launched the 15-month season, Grandage said he was committed to reaching a new generation of theatregoers by pricing a quarter of the tickets for each performance at £10.
Average attendance overall has been 92%, with 30% of the audience first time theatre bookers.
Speaking a year ago, Grandage told the BBC: "Our biggest worry was that all those £10 tickets might get snapped up by people who normally pay £57.50 thinking they've got a bargain. We want them to carry on paying £57.50 to subsidise those people who can't afford to get to the theatre."
Henry V is at the Noel Coward Theatre until 15 February