Neighbours debut for Scott and Charlene's son Daniel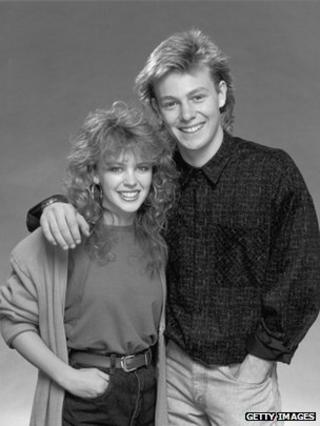 Daniel Robinson, the 21-year-old son of classic Neighbours characters Scott and Charlene, is to make his debut in the Australian soap opera.
The pair, played by Jason Donovan and Kylie Minogue in the late 1980s, had their son after leaving the Melbourne suburb of Erinsborough for Brisbane.
An actor to play him has yet to be cast, but will need to resemble his screen parents, producers say.
Scott and Charlene's wedding was seen by some 20m viewers in the UK in 1988.
Series producer Jason Herbison said: "Charlene and Scott are the quintessential love story who have the happy ending. More than 25 years on, they are still remembered worldwide.
"It is fantastic that we can re-open this chapter of Neighbours' history for a new generation of viewers."
He added the introduction of Daniel, who has been referred to in dialogue on the show, could give Minogue and Donovan a reason to make their Neighbours comeback.
"I would love to see Kylie and Jason return to Ramsay Street. They were part of such an iconic period for the show and fans remember them with such affection.
"We do ask former actors to return from time to time, and with the 30th anniversary looming, it would be a perfect opportunity for them to do that."
Producers added that Daniel will arrive in Erinsborough to see where his parents fell in love. He will be introduced to his paternal uncle Paul Robinson, played by Stefan Dennis.
He is the only actor in the current show to have appeared on screen with Minogue and Donovan, who left Neighbours in 1988 and 1989 respectively to pursue UK-based pop music careers.
The first episode of Neighbours was shown in Australia in 1985, and gained a strong following when it arrived in the UK the following year. It moved homes from BBC One to Channel 5 in 2008.
Daniel Robinson is expected to make his screen debut in Australia next year.