Stars return for CBeebies panto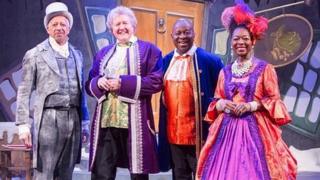 Children's TV presenters of yesteryear including Baroness Floella Benjamin and Derek Griffiths are to star in this year's CBeebies panto.
The pair were best known to young viewers in the 1970s for presenting the BBC shows Play School and Play Away.
They will be joined by Fingermouse star Iain Lauchlan and Playdays' Dave Benson-Phillips for a new take on Charles Dickens' A Christmas Carol.
Play School's rotund cuddly toy Humpty will also make an appearance.
Current CBeebies stars in the line-up will include Justin Fletcher, Ben Faulks (from Mr Bloom), Andy Day and Cat Sandion.
Baroness Benjamin - who plays a party guest - said: "I loved joining such a brilliant cast of stars of the present and those from the past, including the biggest star of all - Humpty.
"It was a real thrill seeing the faces of the children in the audience watching the performance with such enchantment."
Griffiths, who takes on the role of "friend of Christmas past", said: "I had a week of nostalgic joy."
The panto, which was filmed at Sheffield's Crucible Theatre, will be broadcast on CBeebies on 20 December.