Malta wins Junior Eurovision Song contest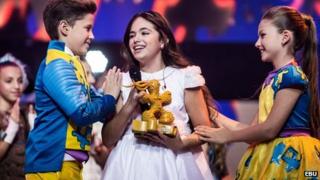 Malta has won this year's Junior Eurovision Song contest held in Kiev, Ukraine.
Eleven-year-old Gaia Cauchi scored 130 points with her ballad, The Start, which she also helped compose and write.
She beat 11 other countries to win the trophy, with Ukraine and Belarus finishing second and third.
It is the first time Malta has won the contest, after returning to compete following a three-year break.
Cauchi, who lives in the small rural village of Mgarr, is no stranger to winning talent shows.
She finished first in the international selection of the San Remo Junior song contest and was honoured with an achievement award at the 2013 Malta Music Awards.
She has also had success on a number of Italian television talent shows.
The Junior version of the Eurovision Song contest has been running since 2003.
The UK has not participated in the competition since 2005.
Other countries that participated this year included Russia, Georgia, Armenia, Azerbaijan, The Netherlands, Sweden, San Marino, Moldova and FYR Macedonia.
This year's Eurovision winner, Denmark's Emmelie de Forest, also performed during the show.