Hunger Games stays top of US box office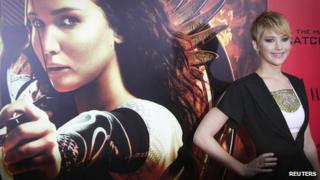 Hunger Games: Catching Fire has held on to the top spot at the US box office for a second week, with Disney's Frozen opening at number two.
According to early estimates, the Hunger Games sequel took $110.2m (£67.1m) while Frozen took $93m (£56m).
That figure made Frozen the biggest Thanksgiving opening ever.
Catching Fire and Frozen both beat the Thanksgiving box office record of $82.4m set by Harry Potter and the Sorcerer's Stone in 2001.
Dave Hollis, Walt Disney executive vice president for distribution, said: "This was much more than we ever could have thought," adding that it was the biggest-ever opening for one of its releases.
Disney's Tangled opened during the Thanksgiving period in 2010, taking $68.7m.
Frozen tells the story of a Scandinavian princess who tries to save her kingdom after the queen - her sister - accidentally uses her magic powers to freeze the country.
Disney's action film Thor came in third with $15.5m (£9.5m).
Ensemble movie The Best Man Holiday took $11.1m (£6.7m) to claim fourth spot, while Homefront, written by Sylvester Stallone and starring Jason Statham, was the second highest new entry at five with $9.8m (£6m).
But Spike Lee's latest offering, Oldboy, failed to make a big dent on the chart, taking just $850,000 (£518,000).
Nelson Mandela biopic, Mandela: Long Walk to Freedom, took $100,306 (£61,000) - but that will be considered a solid return given it only opened in four cinemas in New York and Los Angeles.
The North American box office took $294m (£179m) in total, another record, just beating last year's five-day Thanksgiving takings of $290m.