ITV's Lord Lucan drama criticised by victim's son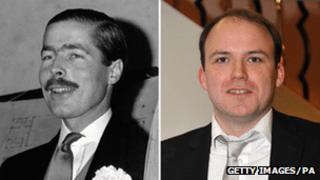 The son of the woman thought to have been murdered by Lord Lucan has accused ITV of "profiting" from her death by broadcasting a drama about the crime.
Skyfall actor Rory Kinnear plays the aristocrat, who vanished after the death of his children's nanny, Sandra Rivett, in 1974.
An inquest subsequently ruled that he murdered her.
Ms Rivett's son Neil Berriman told the Radio Times that ITV's two-part series was "appalling".
"They have invited me to watch the drama but I have got no intentions of going," said Berriman, who was adopted as a baby and only discovered his mother's identity when he was 40.
"The programme is not entertainment." he added. "They are profiting from my mum's death."
A spokesman for the channel said: "ITV has contacted everyone immediately connected with the story and given them a chance to engage and discuss any concerns.
"No-one connected with this story had declared they were unhappy about us pursuing the drama. This includes the Lucan family and, in particular, the family of Sandra Rivett.
"The drama is not a re-hash of the story but rather seeks to provide a new insight into the events of 7 November, 1974 and, crucially, attempts to answer the riddle of what became of Lord Lucan."
But Lord Lucan's daughter Camilla Bingham appeared to contradict the statement, saying: "The collective Lucan family has never endorsed this drama.
"If there were new insights, the proper course would be for the relevant evidence to be submitted to the police, not titivated and presented to the public under the guise of entertainment."
Sightings
Sandra Rivett was found dead at the home of Lord Lucan's estranged wife in the Belgravia area of London in 1974.
Lady Lucan was also attacked but managed to escape.
Lord Lucan disappeared and his car was later found abandoned and soaked in blood in Newhaven, East Sussex.
A year later, an inquest jury ruled that Lord Lucan had killed Rivett, whom many believe was mistaken by the aristocrat for his wife Veronica.
Lord Lucan was officially declared dead by the High Court in 1999. Since his disappearance there have been numerous "sightings" around the world.
ITV's drama is based on John Pearson's book The Gamblers, which claimed Lucan's wealthy friends helped him leave the country.
It was written by Jeff Pope - who previously penned ITV's Appropriate Adult, about serial killer Fred West.
Although that programme, which starred The Wire's Dominic West, went on to win several Bafta awards, it too was criticised - both by investigating police officers and West's daughter, Anne Marie Davis.
Her comments, made six months before the drama was broadcast, were very similar to those of Berriman.
"No one should kid themselves," she said. "The object of this drama is to make money.
"But the programme makers have to recognise that a lot of vulnerable young women died.