Rosemary Lee wins £10,000 choreography award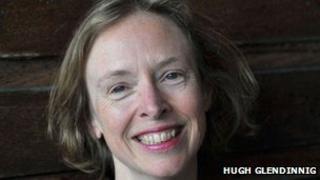 Choreographer Rosemary Lee, whose works often involve hundreds of dancers, has won the £10,000 Bonnie Bird award.
Her recent works include Melt Down, which saw 30 men dance to the sound of a tolling bell on the steps of Granary Square in King's Cross; and Without, involving 400 residents of Londonderry.
Given biennially, The Bonnie Bird Award supports the development of new work.
"Having been taught myself by Bonnie Bird I am thrilled and touched to have been chosen for this award," she said.
Lee added she intends to research complex, eight-person routines and the links between "experience and the written word".
"Having spent the last decade primarily working on large-scale participatory projects and film installations, this opportunity is timely, much needed and most welcome."
"I am longing to return to the studio," she added. "As an independent artist with a family it is not easy finding the time, resources, and opportunities to research and experiment with dancers."
Lee has been absorbed by dance from a very young age. "I am told I was in a carry-cot at my sister's ballet classes when I was 18 months and I started dancing there," she told London Dance.
Since graduating from the Trinity Laban Conservatoire of Music and Dance, she has specialised in large-scale, community-focussed works, alongside her own solo performances.
Her Weather Dances series involved big-screen outdoor projections in which a dancer reacted to changes in their immediate environmental conditions. The installations remained in place for up to a year, making the dancer part of the local environment.
2009's Common Dance brought together a cast of 52 mostly amateur dancers aged from eight to 82, with music by the Finchley Children's Music Group. Commissioned specially to make use of Greenwhich's historic Borough Hall, the production was called "revelatory" by the Guardian's dance critic Sanjoy Roy.
The £10,000 award, set up in memory of dancer and educator Bonnie Bird, is open to choreographers of all genres of dance who have been working professionally for more than five years.
Lee beat shortlisted choreographers Alexander Whitley, Simon Ellis, Jane Mason and Subathra Subramaniam to claim the £10,000 prize.