Guardian First Book Award won by Donal Ryan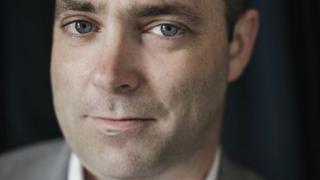 Irish author Donal Ryan has won the 2013 Guardian First Book Award for his debut novel The Spinning Heart.
Set in south-west Ireland, the book tells of the struggles of a rural village in the aftermath of the financial collapse.
The judges described the novel as "slim in size, ambitious in structure and devastating in its emotional force".
Accepting the £10,000 prize at a ceremony at Tate Modern in London, Ryan said he could not believe he had won.
"I can't believe it - I know everybody says it, but I really can't," he said.
He dedicated the award to all writers "working at their beginnings".
"Of the many obstacles that stand in the way of a first book as it makes its precarious way into the world and into its readers' hands, fear is often the biggest and the most difficult to surmount. Fear of not being good enough, of not being able to say what we mean."
Told as a set of short stories from the point of view of 21 people, The Spinning Heart explores the struggle for work in austerity Ireland.
It was also longlisted for this year's Booker prize and was named book of the year at the 2012 Irish Book Awards.
"Donal Ryan gives voice to those who are more used to silence and to feelings that are often unexpressed," chair of the judges Lisa Allardice said.
"The 21 internal monologues come together as a great cry of pain from a community in crisis. It was a tough decision, as always, but here is a new novelist whom we all felt we would be hearing more from in the future."
Other novels shortlisted for the prize included We Need New Names by Booker nominee NoViolet Bulawayo, Burial Rights by Hannah Kent, Kiss Me First by Lottie Moggach and Shereen El Feki's Sex and the Citadel.
Previous winners include Zadie Smith, Chris Ware, Yiyun Li and, last year, Kevin Powers.