BBC Sound of 2014 longlist revealed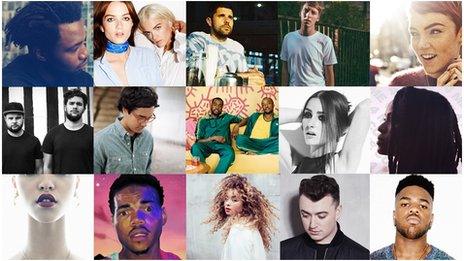 Fifteen rising music artists have been named on the longlist for the BBC Sound of 2014, which showcases some of the brightest new acts for the year ahead.
The list was compiled using tips from 170 tastemakers, who each named their favourite three emerging artists.
Californian trio Haim came out on top last year, with Adele, Ellie Goulding and Jessie J also among past winners.
This year's crop includes singers Sam Smith and Ella Eyre, who have both already featured on number one singles.
Smith, 21, from Cambridgeshire, lent his bittersweet soul voice to Naughty Boy's La La La, which topped the charts in June, as well as Disclosure's track Latch.
Brit School graduate Eyre, meanwhile, was a guest vocalist on Rudimental's hit Waiting All Night in April and has sung with Tinie Tempah and Bastille.
While those two already have a foothold on fame, the Sound of 2014 list also includes artists like Jungle, a mysterious West London electro-funk duo who have created an online buzz but have not yet revealed their identities.
The longlist will be narrowed down to a top five in the week of 6 January, with the winner to be named on 10 January.
The list is made up of seven solo male artists, five solo females and three duos. Bands are out of fashion.
One of the duos, Brighton's riff-heavy Royal Blood are the sole representatives of rock music. They have been likened to the White Stripes and Queens of the Stone Age and will support the Arctic Monkeys next summer.
Chicago's Chance The Rapper, who was named 2013's Hot MC by Rolling Stone magazine, is flying the flag for hip-hop. The 20-year-old - real name Chancelor Bennett - appeared as a guest vocalist on James Blake's Mercury Prize-winning album Overgrown.
BBC Radio 1 head of music George Ergatoudis said: "The most competitive area next year is going to be male singer-songwriters." There are three such singer-strummers in contention for Sound of 2014.
Nick Mulvey is a former member of Mercury-nominated jazz combo Portico Quartet and an aficionado of Cuban and African music. Now solo, the 26-year-old is signed to Communion Records, owned by Mumford and Sons' Ben Lovett.
The sound of Luke Sital-Singh, from Surrey, ranges from rousing Mumfords-style choruses to the simple songcraft of Damien Rice.
The gruff voice of Bristol's 19-year-old George Ezra, meanwhile, makes his folk-blues ballads particularly distinctive.
Of the other solo males, Uzoechi Osisioma Emenike (known as MNEK), from London, is moving in front of the microphone after making his name writing songs including Duke Dumont and A*M*E*'s club anthem Need U (100%).
And with a mellow soul voice that has already been heard on records by SBTRKT and Drake, Londoner Sampha is launching his solo career.
George Ergatoudis said one of the dominant styles for 2014 would be "indie R&B" - R&B made with an independent, experimental mindset.
Female vocalists Kelela - aka the sonically adventurous 30-year-old Los Angeles-based Kelela Mizanekristos - and the eerie-voiced Londoner FKA Twigs, who is signed to the label that launched the xx, fall into that bracket.
And Banks, the stage name of 25-year-old Jillian Banks, from Los Angeles, has gained a devoted fanbase with her moody, intimate R&B.
Elsewhere on the list, the sassy pop of Chloe Howl has seen her compared to Lily Allen and Katy B, while Say Lou Lou are Swedish-Australian twin sisters Miranda and Elektra Kilbey, who create dreamy electro-pop.
The tastemakers whose tips were used to compile the list included radio DJs and producers, TV presenters and producers, newspaper critics, magazine and website editors and respected bloggers.
They included Hattie Collins, music editor at i-D Magazine, who said: "One of the strengths of the Sound Of list is the democratic, diverse range of people that are invited to vote, with people from all musical mediums from the established rock critic to the upcoming urban blogger.
"This diversity is reflected in the 2014 longlist, which has a broad spectrum of emerging artists from a variety of scenes."
The successful acts cannot already be well-known to the UK public, for example through featuring in the final stages of a TV talent show or having already been a member of a successful band.
They must also not have been the lead artist on a UK top 20 single or album before 4 November 2013 - but guest vocalists are eligible.
Since coming top of the Sound of 2013 list, Haim have gone to number one on the UK albums chart with their debut release Days Are Gone.