Angela Lansbury to make West End return in Blithe Spirit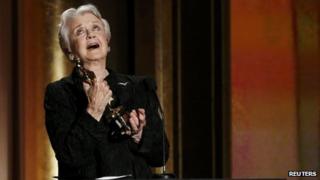 Angela Lansbury is to appear on the London stage for the first time in almost 40 years in a new production of Noel Coward's Blithe Spirit.
She will reprise the role of Madame Arcati, which she first played on Broadway in 2009, winning a Tony Award.
"Coward is the essence of a Britishness long gone," she told the Daily Mail, adding she felt in "terrific shape" for the high-energy production.
The production opens at the Gielgud Theatre on 18 March 2014.
Previews will run from 1 March, directed by Michael Blakemore - who helmed the US production, and a Tony Award-winner for Copenhagen and Kiss Me, Kate.
Best known for crime drama Murder She Wrote, Lansbury was born in Poplar, East London, in 1925.
After moving to the US during World War 2, she signed as an actress with MGM in 1943.
She went on to play roles as diverse as Miss Eglantine Price in Bedknobs and Broomsticks, Elvis Presley's mother in Blue Hawaii and the scheming Eleanor Iselin in The Manchurian Candidate - for which she was nominated for a best supporting actress Oscar.
She was introduced to new young audiences as a singing teapot in Disney's Beauty And The Beast.
She is, however, best known as Jessica Fletcher, the bestselling author and amateur detective from the long-running television series Murder, She Wrote.
On Broadway, she originated the role of Nellie Lovett in Stephen Sondheim's Sweeney Todd: The Demon Barber of Fleet Street in 1979, and played award-winning parts in Mame and Dear World.
Earlier this month, Emma Thompson presented her with a special Oscar in recognition of her services to acting.
The 88-year-old has not appeared in the West End since 1974, when she played the lead role in the Sondheim's Gypsy, based on the memoirs of vaudeville artist Gypsy Rose Lee.
The production later transferred to Broadway, earning Lansbury yet another Tony Award.
Lansbury first starred in Blithe Spirit in 2009, winning rave reviews for her performance as Arcati, a medium on the prowl for vibrations from the spirit world.
The New York Times said she had "the gait of a gazelle and a repertory of poses that bring to mind Egyptian hieroglyphs" as she threw herself around the stage.
"Watching the 83-year-old stage and screen vet limber up before communing with the dead, or lurch into her goofy conjuring dance is a blissful experience," added Variety.
Speaking to the Daily Mail, the actress - who has had both knee and hip replacements - said the original production had been a "wonderful experience".
"I hope to God I can still fly around at the same rate!"
Her return to the West End is limited to 15 weeks, after which she must return to the US for a wedding.