Rebecca Ferguson on her new-found freedom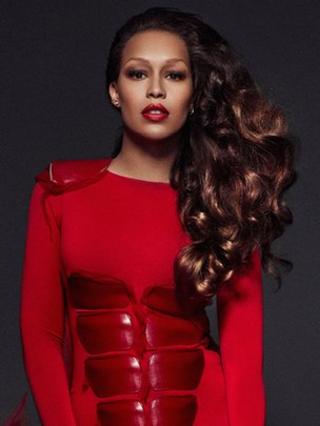 X Factor runner-up Rebecca Ferguson admits she was "a bit lost" after finding fame, but her second album Freedom is all about growing up and fighting back.
She was a shy single mum from Liverpool, staring down at her feet when she first appeared on X Factor.
By the end of the series, she had won over the voting public and was named 2010's runner-up (Matt Cardle came first and One Direction were in third place).
Her debut album, Heaven, sold more than one million copies, but Ferguson says the transition from reality TV hopeful to pop star has not been easy - something her new album Freedom documents.
"It's all about the trials and tribulations of what I've been through," she explains. "The good people, the bad people. Me just evolving, really, and becoming a woman.
"Because I feel like I was a bit lost," she admits. "I was a bit like 'What's going on?'. [I was] surrounded by loads of people, people fluffing my hair, and I was just like, 'Where am I?'
"Freedom is basically an album about being oppressed, or feeling oppressed, but fighting back."
She is returning to the public eye with new management, after a rather public falling-out with Modest - who look after several X Factor graduates, including Olly Murs and Little Mix - led to both parties attempting to sue each other.
The issue was resolved in July with an undisclosed settlement, but Ferguson says that, legally, she cannot talk about it, "like, at all".
She was a little more forthcoming on Twitter last summer, claiming the company "watched me collapse [then] gave me a can of Coke and said now go do your interview".
"I need to see my children you need to give me time off vile!!!!" she continued.
Looking back, does she feel it was helpful to be able to vent her frustration so publicly - or was it a little bit dangerous?
"All I'll say with the Twitter thing is I'm so expressive on that thing," she says. "I'll type it out and then I'll go the next day 'Why did no one stop me?'," says Ferguson.
"I'm so instinctive, I react on emotions, which I'm stopping myself [from doing] a little bit now.
"People see you like a pop star or someone in the public eye, but you're just a person.
"Just like you might go on Twitter if you've had a bad day and say 'That man done my head in today at the cafe'. It's hard though because the public can judge you," she admits.
"Inside, I'm just Becky on my Twitter. But I'm getting my head around that. I'm like, 'No actually this is a public Twitter and you've got a lot of fans.'"
Sink or swim
Ferguson feels she has "overcome a lot" in the last 18 months. Not only has she "relaxed into my role", she has also conquered those famous nerves.
"Don't get me wrong, I get those butterflies before I'm on stage, but I'm not the way I was. I was just so nervous, so shy," says the singer.
Sadly, she has no big confidence-building tricks to share, putting the changes in her personality down to "life, literally".
"It was like the best training ground, the last three years. I think I had to become un-shy, I had no choice," she reveals.
"[There were] so many big personalities around me constantly that it was sink or swim."
So far, she has resisted the temptation to come over all diva-like, although she reckons it would be "so easy".
"If you've got someone opening doors, doing literally everything for you constantly 24/7 - and you're young, fresh off the X Factor - I think a lot of people just go: 'Ooh, bow to me' and get a bit excited. It's like: 'This is nice'."
However, she has developed her own theory about why some stars become demanding.
"It's them getting their power back. When you hear of really outlandish things, I think maybe he or she feels like they're getting some power from that?
"It takes a powerless person to be a really big diva, to demand things that make no sense at all."
Ferguson says she is always "honest" about the songs she has written and the first single from the new album, I Hope, is "a pop song, pure and simple".
With its catchy, gospel-infused chorus, she says the track has already achieved "earworm" status in her own home.
"When I first get the album, I listen to it a few times. My boyfriend's probably like: 'All you do is listen to your own album, I'm ashamed for you!' But I'm just listening for flaws."
The album also features a duet with John Legend but, as the multiple Grammy Award-winner was getting married around the time they recorded it, the pair have not yet met.
"Everyone's like: 'So what was it like in the booth?' And I'm like: 'Technology! It doesn't happen any more," she laughs.
Luxury
With a new team around her, Ferguson's two children accompany her as much as possible and, as we speak at her record label's offices, they are sightseeing around London with her boyfriend.
"They had it all planned," she says. "They came to my gig last night, all the audience saw them dancing in the corner.
"They just get to see what I'm doing, I didn't have that luxury last time. It's fun now."
Ferguson says that feeling "free" has just as much to do with "accepting myself as imperfect" as taking control.
"I feel like I was so obsessed with wanting to be a perfect person, which isn't achievable," she says.
"Like, 'you can't swear, you can't do this, you can't do that'. And that's wrong."
"That's probably what made me so shy. I'd go on stage and I'd beat myself up about getting a bad note, really get into a state," she explains.
"You know what? Life's so short, I just want to enjoy it, have fun and not beat myself up over getting little things wrong... because most people don't care."
Rebecca Ferguson's album, Freedom, and her single, I Hope, are out now.