Sir John Tavener: Hundreds attend composer's funeral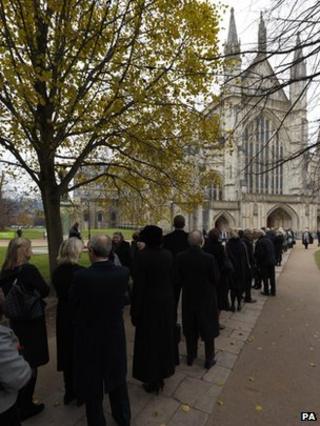 Hundreds have attended the funeral of composer Sir John Tavener, which has taken place at Winchester Cathedral.
His wife and three children led mourners at the Greek Orthodox service, while a representative of the Prince of Wales was among the congregation.
Several of Sir John's spiritual works were played at the service, with accompaniment of the cathedral's choir.
The 69-year-old, whose music has topped the classical charts, died earlier this month after long-term health problems.
In 1997, Sir John's piece Song for Athene was performed at the funeral of Princess Diana.
His Eminence Archbishop Gregorios of Thyateira and Great Britain, who led the service, said: "He reached out with his music to touch the intangible, we should be grateful to God for his contribution to beauty."
The Very Reverend James Atwell, Dean of Winchester, said: "We are gathered to commend to God someone who opened a door to heaven for so many people by his music with its transparently spiritual quality."
Following the Greek Orthodox service, mourners were invited to approach the coffin to say their final farewells to the composer, who was a follower of the faith.
A collection made at the funeral will be donated to a memorial fund to "benefit creative and intellectual endeavours close to John's heart".
Sir John made his name with the avant-garde oratorio The Whale, which was released by The Beatles on their Apple label in 1968.
He went on to become one of the few contemporary composers to find wide acclaim beyond the classical world, and was known for his imposing 6ft 6in (198 cm) frame and mane of blond hair.
Sir John's other well-known works included his setting of William Blake's poem The Lamb and A New Beginning, which was chosen to see in the new century at the end of 1999 in the Millennium Dome in London.
He was nominated for the prestigious Mercury Prize twice - in 1992 and 1997 - and was knighted in 2000.
The musician, who died at his home in Dorset, suffered a stroke in 1979, and in 1990 was diagnosed with Marfan Syndrome, a hereditary condition that can cause heart defects.