Professionals star Lewis Collins dies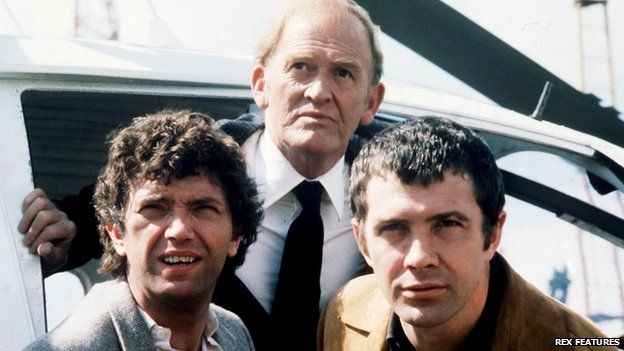 The Professionals star Lewis Collins has died aged 67, his agent has said.
The actor, who played Bodie in the cult 1970s TV series, alongside Martin Shaw, died in Los Angeles after a five-year struggle with cancer.
His agent said: "He died peacefully at his LA home surrounded by his family. Privacy is asked for at this very sad time."
The Professionals was based around the adventures of a fictional crime fighting unit called CI5.
The ITV show became huge hit in the late 1970s and early 1980s. Collins's other notable roles included SAS captain Peter Skellen in 1982's Who Dares Wins.
Shaw, currently appearing in a West End production of 12 Angry Men, said he was saddened by the news of his co-star's death.
"We spent a very tough four years together in making the Professionals, and shared in the production of what has become an icon of British television," he said.
"He will be remembered as part of the childhood of so many people, and mourned by his fans. I send my love and condolences to his family, and the great many who will miss him."
Brian Clemens, creator of The Professionals, said Collins brought a "Bond-ian quality" to the role of Bodie.
"I thought he would have made a marvellous Bond," he told the BBC. "He was tough and he could fight, he looked good, he was handsome and he had this nice sense of humour.
"I knew he had auditioned [for James Bond] and I think they were wrong not to take him up."
Mr Clemens recalled Collins also undertook a lot of physical training for the role of Bodie.
"He took up parachute jumping soon after joining The Professionals. It was the sort of thing you would expect a Marine to indulge in. He was a method actor in a sense."
Lord Grade, who launched the programme in 1977 when he was director of programmes at London Weekend Television, told BBC Radio 4 the on-screen partnership of Collins and Shaw would "never be forgotten".
"It worked perfectly and the chemistry between the two of them was magic," he said on Radio 4's World At One.
"[Collins] was Bodie - he was a very macho character in real life. He got us into trouble one time where he had a few days off from filming where he went parachute jumping and broke his leg which held up the filming.
"But what you saw on screen was the same as what you saw off the screen - he was just a big, hunky, macho character with a lovely innocence about him."
Collins was born in May 1946 in Cheshire, and worked as a drummer and a hairdresser before breaking into acting.
Early work included roles in popular TV series such as Z Cars and The New Avengers, as well as a recurring role in The Cuckoo Waltz.
However, he became a household name with the debut of The Professionals in 1977, which ran for six years and won him a global following as hard man William Bodie.
Towards the end of The Professionals, Collins played the lead in the British thriller Who Dares Wins, as an SAS soldier who infiltrates a terrorist group.
Around this time, he auditioned for the role of James Bond: "I was in Albert R Broccoli's office for five minutes, but it was really over for me in seconds," he is reported to have said.
"He's expecting another Connery to walk through the door and there are few of them around."
Unlike his co-star, Collins was never able to match his success in The Professionals.
He continued working across the '80s and '90s and was last seen on screen in 2002 in The Bill.
Former Doctor Who star Colin Baker tweeted: "Sad to hear that Lewis Collins has died. He was the year below me at drama school. Had style!"
Brian Conley, who co-starred with Collins in the 1999 TV series The Grimleys, also paid his respects: "God bless Lewis Collins, my dad in The Grimleys. A great actor and a lovely man."
"The man who should have been Bond," tweeted Gary Kemp. "RIP Lewis Collins. You were supercool."
Collins leaves his wife, Michelle - whom he married in 1992 - and three sons.
The Professionals is currently being re-run on ITV4.