Oscars: how competitive is the race for best picture?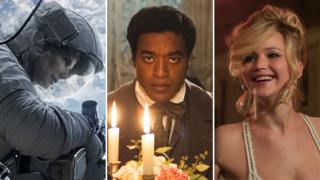 With three months to go before the Oscars, how competitive is the race for best picture?
Although the Academy Awards aren't held until 2 March 2014, several front-runners have emerged in one of the strongest fields for years.
Most Oscar experts agree that Gravity, Alfonso Cuaron's 3D film about astronauts adrift in space, and Steve McQueen's hard-hitting historical drama, 12 Years a Slave, are guaranteed best picture nominations when the shortlist is announced in mid-January.
Gravity star Sandra Bullock is also hotly tipped to win a best actress nomination, while 12 Years a Slave's Chiwetel Ejiofor, Michael Fassbender and Lupita Nyong'o are all expected to get acting nods.
"I would say it's one of the strongest fields that I can recall, and I've been doing this since 2001," says Scott Feinberg, lead awards analyst for The Hollywood Reporter.
Strong buzz
He estimates that there are some 20 films jostling for a place in the best picture shortlist and says it's "quite unusual" that there are so many to choose from.
Another film likely to make the final list is David O Russell's crime drama American Hustle, which had its first press screenings in the US last week.
The film, the story of con man Irving Rosenfeld, played by Christian Bale, includes Amy Adams, Bradley Cooper, Jeremy Renner and Jennifer Lawrence in the cast.
Lawrence, who won the best actress Oscar last February for Russell's Silver Linings Playbook, is generating a strong buzz for a best supporting actress nomination for her role as Irving's unpredictable wife Rosalyn.
"People feel it's a very entertaining movie. The question is whether it's got the substance and gravitas to take on movies like 12 Years a Slave," says Feinberg.
"I think it's going to get a bunch of nominations but I'm not sure that it will be able to compete for wins with movies that are more socially significant."
'Easier path'
Dan Higgins, the editor-in-chief of website Pure Movies, also notes an "exceptionally strong field".
He says: "The hard evidence of that is that several release dates have moved back to next year."
Monuments Men, George Clooney's comedy drama about looted Nazi art, the biopic Grace of Monaco, starring Nicole Kidman, and drama Foxcatcher, with Steve Carell, have all been pushed back to 2014, putting them out of this year's Oscar race.
Feinberg adds: "Though they may not admit it, I think part of their thinking must have been it can only be an easier path to a nomination next year because this year is just so crowded."
Clooney told Deadline that the CGI effects work on Monuments Men would not have been ready in time for a December release date, adding: "I don't know how many movies are opening, but it's got to be the toughest December in recent memory for box office."
One of those December openings in the US is Disney movie Saving Mr Banks (which has just opened in the UK).
Starring Emma Thompson and Tom Hanks, it is about the real-life battle of wills between author PL Travers and Walt Disney over the movie rights to Mary Poppins.
Disgraced stockbroker
With the last two best picture winners - Argo and The Artist - both about the art of movie-making (admittedly, in the case of Argo it was a fake movie), things look good for Saving Mr Banks if Hollywood decides to honour its own ingenuity once again.
Feinberg says: "One of the things it has going for it is it's a much more pleasant movie-going experience than some of the others, which have very dark subject matter and put you through the grinder emotionally."
Another December opener with an eye on awards season is Martin Scorsese's The Wolf of Wall Street, the true story of disgraced New York stockbroker Jordan Belfort, played by Leonardo DiCaprio.
The film is out in the US on 25 December (it opens in the UK on 17 January 2014) just ahead of the cut-off date for films to be eligible for Oscar consideration. With a running time of 179 minutes, it could be one of this year's longest best picture contenders.
Both Scorsese's epic and Saving Mr Banks are among many of this year's Oscar hopefuls based on true stories. Others include 12 Years a Slave, piracy thriller Captain Phillips and The Butler, in which Forest Whitaker plays a member of the White House domestic staff during a tumultuous period of American civil rights history.
"The academy has always responded particularly well to movies that are about something that has real-world significance," says Feinberg. "That's why it has almost never recognised comedies or fantasy movies, and that could be something that plays to the disadvantage of Gravity."
Strong contender
Higgins, meanwhile, expects Gravity to do well in the visual effects categories, and wonders if 12 Years a Slave means "this could be the Oscars where America comes to terms with its history of slavery".
He also predicts that Hanks will be double nominated for best actor, in Captain Phillips, and supporting actor, in Saving Mr Banks.
Another strong contender for best actor is Robert Redford, for his almost wordless performance in All is Lost, JC Chandor's story of a sailor adrift in the Indian Ocean after his boat collides with a shipping container. "It's a kind of Gravity in the sea - it's very claustrophobic," says Higgins.
"This is such a strong field. Another year All is Lost might have won best picture and this year it may not even make the shortlist."
There is a question over whether Scarlett Johansson could get a best supporting actress nomination for Spike Jonze's Her, in which she voices a computer operating system but is never seen on screen.
She received the best actress award at the Rome Film Festival, but has been deemed ineligible for the Golden Globe Awards, which announces its nominations on 12 December.
Impressive record
Feinberg says: "Clearly she's emoting as much as anybody, but because she's not giving a conventional performance the [Oscar voters] are going to have some reservations about nominating her.
"I think her best shot was with the Globes because they respond to big name movie stars, so the fact they are not going to include her makes it seem like an even more far-out concept for the academy."
Feinberg has an impressive track record of forecasting the Oscars - in 2006 and 2013 he called 21 of 24 winners.
But he cautions about attempting to name Oscar winners with three months to go.
"The more you say something is a slam dunk, the more resistance there is from people in the academy who don't want to be told how to vote.
"So there may be a pushback against 12 Years a Slave or Gravity. I would not be very surprised if another movie gained momentum over the coming months and made a big push."
The 86th Academy Awards, hosted by Ellen DeGeneres, take place on 2 March 2014, with nominations announced on 16 January 2014.