Alec Baldwin chat show cancelled following 'gay slur'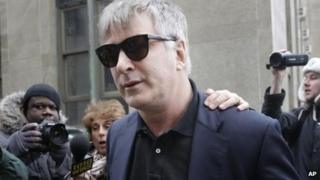 Alec Baldwin's US chat show has been cancelled, weeks after it was suspended following reports the had actor used an anti-gay slur.
TV network MSNBC and the star jointly confirmed that Up Late With Alec Baldwin "will not continue".
"This is a mutual parting and we wish Alec all the best," said a statement.
Baldwin claimed gay activists had "killed" his show, but acknowledged he had to take "some responsibility" for his actions.
The show was suspended for two weeks when Baldwin was caught on video, apparently insulting a photographer using a homophobic epithet.
The 30 Rock star disputed using the term, claiming the audio was unclear, but he nonetheless posted an apology on the MSNBC website.
"I did not intend to hurt or offend anyone with my choice of words, but clearly I have," he wrote earlier this month.
"Words are important. I understand that and will choose mine with great care going forward."
'Triumph'
The show, which had dropped considerably in the ratings since its mid-October debut, was due to return on Friday.
Baldwin said a "fundamentalist wing of gay advocacy" had played a part in the show's cancellation.
Speaking to the Gothamist website, he suggested Rich Ferraro, spokesman for campaign group GLAAD (Gay and Lesbian Alliance Against Defamation), had been heavily involved.
"Rich Ferraro, this is probably one of his greatest triumphs," Baldwin said. "They killed my show. And I have to take some responsibility for that myself."
Ferraro responded to Baldwin with a statement of his own, disputing it was one of his "greatest triumphs".
But he added: "If a teacher, coach, local radio show host, or parent realizes that anti-LGBT slurs are outdated and unacceptable because of this Baldwin issue, I guess we'll call it a win.
"Alec Baldwin's team has not been open to turning this incident into an opportunity for public education and that's unfortunate."
Baldwin, who is currently filming with Jerry Maguire director Cameron Crowe in Hawaii, frequently attracts press coverage with his incendiary remarks.
He temporarily quit Twitter in 2011 after a dispute with American Airlines - who had thrown him off a flight for playing a game on his mobile phone.
Earlier this year, the actor ended his role on NBC's 30 Rock as fictional TV executive Jack Donaghy.
The role earned him Golden Globe, Emmy and Screen Actors Guild awards.
"He's a big personality," MSNBC president Phil Griffin told the Hollywood Reporter, ahead of the star's chat show launch this autumn.
"I have confidence that he'll be known for his interviews."