12 Years a Slave is Spirit awards frontrunner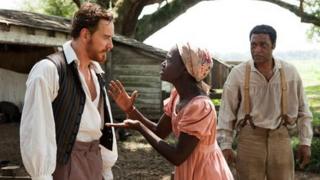 Hard-hitting historical drama 12 Years a Slave leads the field at the 2014 Independent Spirit Awards, having landed nominations in seven categories.
Steve McQueen's film was shortlisted for best feature, director, screenplay and cinematography and had three of its stars nominated for acting honours.
Alexander Payne's road movie Nebraska earned six nominations, including one for veteran lead actor Bruce Dern.
The awards will be held in Los Angeles on 1 March, one day before the Oscars.
Presented annually by the Film Independent arts organisation, the event honours independent and arthouse films made for less than $20 million (£12.3m).
Many of this year's nominees are expected to feature in the Oscar nominations, announced by the Academy of Motion Picture Arts and Sciences in January.
They included Australian actress Cate Blanchett, nominated for best female lead for her role in Woody Allen's Blue Jasmine and already considered an Oscar frontrunner.
Other nominees included the late James Gandolfini, shortlisted posthumously for best supporting male for his work in the romantic comedy Enough Said.
Hopes of UK success will largely rest on 12 Years star Chiwetel Ejiofor, though fellow Briton Sally Hawkins has a shot at glory for her supporting turn in Blue Jasmine.
The best feature category is notable this year for including two black-and-white titles - the aforementioned Nebraska and coming-of-age tale Frances Ha.
The near-wordless shipwreck drama All is Lost and the Coen brothers' folk music-based Inside Llewyn Davis are also shortlisted alongside 12 Years a Slave.
All is Lost star Robert Redford joined Dern and Ejiofor in the male lead category, as did Inside Llewyn Davis's Oscar Isaac and the resurgent Matthew McConaughey.
The latter has been recognised for his role as a rodeo cowboy with Aids in Dallas Buyers Club, which also saw Jared Leto nominated for best supporting male.
Romantic drama Before Midnight saw Julie Delpy get two nominations - one for best female lead, and the other for best screenplay.
The French actress shared the latter with co-star Ethan Hawke and director Richard Linklater, her collaborators on the third instalment in the romantic drama series that began with 1995's Before Sunrise.
There was also a nomination for actor turned film-maker Joseph Gordon-Levitt, whose directorial debut Don Jon saw him shortlisted in the best first screenplay category.
Comedian Patton Oswalt will host this year's event, an afternoon ceremony held by the beach in Santa Monica, California.
A full list of this year's nominees can be viewed here.
Last year's Spirit awards saw Jennifer Lawrence vehicle Silver Lining Playbook sweep the board, winning best feature, best director, best screenplay and best actress.
In other awards news, it has emerged that Scarlett Johansson has been ruled ineligible for a Golden Globe award for her work in Spike Jonze's futuristic romance Her.
The actress is heard but not seen in the film as the seductive voice of a computer operating system, a performance that saw her land the best actress prize at the Rome Film Festival earlier this month.