Arik Einstein: Israeli singer dies at the age of 74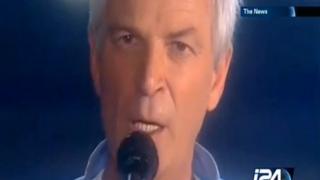 Israeli singer Arik Einstein, regarded as a "cultural giant" in his homeland, has died at the age of 74.
The musician, who released some 44 solo albums during his career, suffered a severe aortic aneurysm.
Einstein recorded several Hebrew language songs regarded as Israeli anthems, bringing together folk and more modern pop music.
Israeli Prime Minister Benjamin Netanyahu hailed his songs as "the soundtrack of Israel".
"Arik was the greatest. We all grew up on his songs. You said Arik Einstein, you said Israel. Arik was a wonderful singer and a wonderful person. Israel bids a sad farewell to a cultural giant," he added.
Israel's president Shimon Peres also paid warm tribute to Einstein, saying: "His songs are the soundtrack of an entire nation, his voice caressed and embraced the country. He moved the first generations and new alike. He wrote in difficult times and days of elation."
Einstein's friend and fellow musician Israel Gurion said the singer was "our Frank Sinatra", adding "he gave the words he sang meaning".
'Quintessential pop star'
Einstein began singing as part of a military entertainment troupe, and was initially an actor when he left the army.
His musical career began as a vocalist for numerous bands, before releasing his first solo album in 1966. Collaborations with a host of artists followed over the years, including Shalom Hanoch and Yoni Rechter.
In 1982, Einstein was seriously injured in a car accident and ceased performing publicly, although he continued to release records which made their mark through Israeli radio.
In a rare interview, he said that it was "exhausting" being constantly asked about returning to the limelight, but said he responded with the same quip: "I have a note from my doctor".
His version of the song Cry For You became the unofficial Israeli requiem following the assassination of prime minister Yitzak Rabin in 1995.
Einstein, who tried his hand at comedy satire in the 1970s and appeared in a number of films, was due to write his first weekly column for Tel Aviv newspaper Ma'ariv.
Israeli music journalist Ayelit Yagil said that Einstein's contribution to Israeli music was "immense" and he was the "quintessential pop star".
"He introduced the electric guitar to Israeli music," she told the BBC. "He became accomplished with the state of Israel as it grew up, and could even be critical when it wasn't going in the right direction."
Ms Yagil added that Einstein's withdrawal from public life in 1982 "cemented his mystique", and predicted his death may result in an upsurge in sales of his music.
"Israelis living abroad may feel nostalgic and buy his albums," she said.