Train robbery drama recreates 'crime of the century'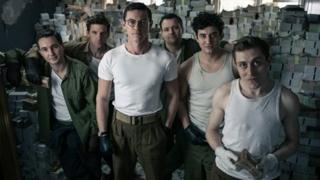 The makers of two BBC film dramas that dramatise the 1963 Great Train Robbery from the perspective of its perpetrators and their pursuers have said they show "both sides of the coin".
Their scheduled broadcast on BBC One comes in the wake of news that Ronnie Biggs, one of the criminals who took part in the heist, has died in north London at the age of 84.
The first film, A Robber's Tale, focuses on Bruce Reynolds as he plans the now folkloric raid on a London-bound Royal Mail train that netted a then-record haul of £2.6 million.
A Copper's Tale, meanwhile, concentrates on DCS Tommy Butler, the detective chief superintendent charged with bringing the robbers to justice.
"Both films are about somebody who formed a gang, planned a task and carried it out to various degrees of success," said writer Chris Chibnall, creator of hit ITV drama Broadchurch.
The films will be shown on BBC One on consecutive evenings later this month, to mark the 50th anniversary of a crime that still resonates today.
The mythology surrounding the heist has become something of a long-running soap opera, with some of the culprits evading justice even after being apprehended.
Yet while the dramas bring to life such memorable figures as Biggs, Buster Edwards and Jack Slipper "of the Yard", it is Reynolds and Butler who drive their respective narratives.
Played by Luke Evans and Jim Broadbent respectively, they are both depicted as driven perfectionists who will stop at nothing to achieve the lofty goals they have set themselves.
"In terms of Tommy and Bruce, what was interesting was seeing the two sides of the same coin," Chibnall explained at a screening of the films in London last month.
"Neither was a hero, neither was a villain and both had aspects of the other."
The Doctor Who and Torchwood writer admitted to being surprised about how many details of the night-time heist were unfamiliar to him as he set about researching the event.
They included an earlier security van robbery orchestrated by Reynolds and his crew at Heathrow Airport in 1962, the underwhelming haul of which inspired him to be more audacious in his next criminal enterprise.
Yet Chibnall resisted providing an answer to what remains the biggest mystery about the robbery - the identity of the masked man who struck train driver Jack Mills over the head.
The 57-year-old was unable to work again, a fact that is often brought up whenever it appears the robbers are being depicted in a glamorous or flamboyant light.
Last year it was claimed that convicted robber James Hussey, aka 'Big Jim', owned up to the assault in a deathbed confession.
Previous accounts had named Edwards as the guilty party, though speculation persists Mills was struck by a mystery man who was never caught.
"It was obviously something we talked about a lot, and a lot of evidence has come to light recently," Chibnall told the BBC News website.
"But I didn't want to use any dramatic licence, [and] I certainly didn't want to make any idiotic suppositions."
The role of Tommy Butler is an emotive one for Broadbent, who admitted to being fascinated by the robbery as a boy and even to have idolised one of its participants.
"When I was 14, the Great Train Robbery was such an exciting event," the 64-year-old recalled. "The narrative of the robbery was huge in all our minds at that time.
"It was made more exciting for me because in the summer after the robbery, I went to Cadwell Park in Lincolnshire and saw Roy James in his Brabham winning his heat.
"I hero-worshipped him on that day. My father's name was Roy, my name was James, so I said, 'I'm going to follow him,'" said Broadbent.
Getaway driver James, had been a promising racing driver, whose nickname was 'Weasel'. He was eventually caught after a rooftop chase and served 12 years of a 30-year sentence.
Fifteen men in all would do time for their part in the robbery, with Reynolds himself spending 10 years in jail following his eventual arrest in 1968.
"I did actually see Roy James many years later at the Old Bailey when I was playing a barrister in a film," Broadbent continued.
"There in the dock were several people up for a VAT bullion fraud. One of them was Roy James and another was Charlie Wilson," - the so-called 'treasurer' who gave each robber his cut of the haul.
"I was the only person in the visitors' gallery that day. I was like, 'These are train robbers, these are stars! Where's the audience?'
"Obviously my point of view has matured somewhat since I was 14, but I think these guys were the last of that ilk. I can't think of anyone since who's caught the public imagination in that way."
For Evans, Welsh star of such Hollywood blockbusters as Clash of the Titans, Immortals and Fast & Furious 6, Reynolds felt like a "perfect" role to tackle at this stage in his career.
"I just sort of got the guy," the actor revealed. "I got an essence of who he was and the man behind the robber. There was a human there, a personality I felt I could do something with."
The 34-year-old embraced the opportunity to inhabit Reynolds' dapper outfits and personally sought out the right pair of glasses to adorn his famously bespectacled visage.
Early scenes in A Robber's Tale show Reynolds and his cohorts enjoying the high life in a London nightclub, the entertainment for which is rather apocryphally provided by pop singer Eliza Doolittle.
Evans also relished recreating one of the more colourful episodes in the Reynolds mythology - the time he threw a policeman off his scent by stripping off his clothes and pretending to be caught in a compromising sexual situation.
"I'd been told and read that this actually happened," laughs the actor. "I thought it was brilliant that in that split second he decided to take all his clothes off.
"Nude scenes are a nightmare; they're very embarrassing and often uncomfortable. But it deserved to be in there, it really happened, so yeah - my butt's on the BBC."
It was surely not the only instance of barefaced cheek in an affair that has come to be known as a defining moment in the annals of Britain's social, legal and criminal history.
The Great Train Robbery: A Robber's Tale and A Copper's Tale will be shown on BBC One on 18 and 19 December at 20:00 GMT.