John Constable oil sketch uncovered by museum staff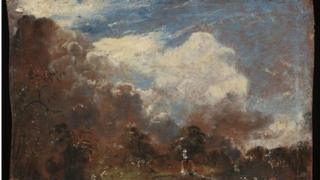 A previously unknown oil sketch by John Constable has been uncovered by staff at London's Victoria and Albert museum.
The landscape depiction was found beneath a lining canvas on Branch Hill Pond: Hampstead, one of the artist's known works.
The sketch, which was created in the early 1820s, will be put on show at the V&A this week.
The find was made while conservators were preparing for a major Constable exhibition, due to open next year.
The V&A was given three Constable easel paintings, 92 oil sketches, 297 drawings and watercolours and three sketchbooks in 1888 by the artist's daughter, which all form part of the museum's permanent collection.
They were aware of an additional sketch when the main painting was X-rayed, but assumed it had subsequently been painted over by the British landscape master.
The additional sketch, showing a preliminary view of a sky and several trees, was discovered when the lining became loose and was removed.
Experts believe Constable made the sketch in Hampstead, London, on a canvas that was probably pinned to his paintbox for support.
Constable who died in 1837, was known to be thrifty with his materials, often sketching or painting on both sides.
The artist is best known for his captures of the Suffolk countryside, including The Haywain, which will be on display at the museum in 2014.
Next year's exhibition, Constable: The Making of a Master, will put his works alongside those of landscape Old Masters including Jacob van Ruisdael and Claude Lorrain.
The new sketch goes on display on Wednesday, while the exhibition will open next September.