Harry Potter named 'nation's favourite' children's book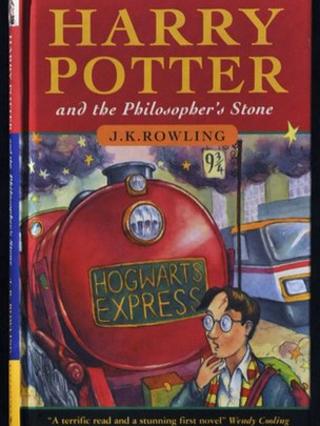 Harry Potter and the Philosopher's Stone has been named the 'nation's favourite' children's book.
The first novel in JK Rowling's series beat The Hunger Games and Roald Dahl's BFG in the Booktrust vote.
Readers of all ages cast some 24,000 votes for the ultimate book to read before the age of 14.
The Very Hungry Caterpillar and Winnie-the-Pooh rounded out the top five, with JRR Tolkien's The Fellowship of the Ring at number seven.
Dr Seuss's The Cat in the Hat, Charlotte's Web by US author EB White and CS Lewis's Narnia fantasy classic The Lion, The Witch and The Wardrobe also featured in the top 10.
Cinematic adaptations of popular books may have had a bearing on voters' choice, as nine of the top 10 have been turned into highly successful movies or film franchises, including the Harry Potter series.
The Booktrust's head of arts ,Claire Shanahan, said: "As the biggest-ever grossing literary franchise, kids and adults alike clearly can't get enough of Harry Potter. It's a worldwide phenomena - it has captured the imaginations of a generation of readers who have grown up in love with Harry or Hermione.
"Even when up against heavyweights such as Dahl and Tolkien, Rowling's creation remains the nation's firm favourite."
Readers were asked to vote for their ultimate storybook to mark Children's Book Week.
Booktrust experts began with a list of 500 titles, which were whittled down to 100 before being put to the vote.
The titles were also grouped into age categories, and The Philosopher's Stone won in the 9-12 age group, while The Hungry Caterpillar was deemed the ultimate book for children up to the age of five.