UK Eurovision singer Bob Allison dies aged 72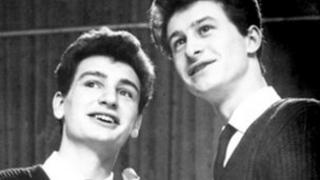 Bob Allison, one half of The Allisons - the UK's entrant to the Eurovision Song Contest in 1961 - has died aged 72.
His bandmate John Allison told the BBC he had been contacted by Bob's family on Monday. He had been in ill health for some time.
The Allisons finished second with the song Are You Sure?, losing to Luxembourg's Nous les Amoureux (We the Lovers), sung by Jean-Claude Pascal.
The song charted at number two in the UK and spent 16 weeks in the top 40.
It was the first UK Eurovision entrant to become a Top Ten hit and was the best chart showing for a UK entrant until Puppet on a String by Sandie Shaw reached number one in 1967.
In all, Are You Sure? sold over one million records and earned a gold disc. But the pair disbanded just a couple of years after Eurovision.
In a poll of Radio 2 listeners earlier this year, it was voted 13th best UK Eurovision song of all time.
Speaking to the BBC in 2009, Andrew Lloyd Webber listed it as his favourite ever.
"I was a kid in school at the time, and I remember thinking what a shame it was that Britain didn't win it that year," he said.
"It is a very, very good song."
Born Bernard Colin Day in Wiltshire in 1941, Bob Allison met John Allison - born Brian Henry Alford - when they were children. They soon began performing harmonies together.
Predating the New York punk band The Ramones, the two singers adopted the same surname.
"We had a lovely sound," John Allison told the BBC News website.
He continued to tour as The Allisons throughout the 70s and 80s with several different partners.