Eurovision Song Contest: Serbia drops out of Copenhagen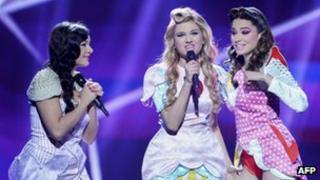 Serbia has pulled out of next year's Eurovision Song Contest in Copenhagen, citing financial difficulties.
The country's broadcaster said the "high costs necessary to participate" had led to the decision.
Serbia won Eurovision in 2007 with the song Molitva by Marija Serifovic, but failed to qualify for the grand final in Malmo, Sweden this year.
Other countries have also said they will sit out next year's competition, including Serbia's neighbour Croatia.
Bulgaria and Cyprus will not be taking part either, with all four nations' broadcasters saying it is too expensive.
Former participants including Slovakia, Czech Republic and Andorra will remain on the sidelines, while Turkey are shunning the competition for a second year in a row, saying they are unhappy with the rules.
Fluctuating fortunes
They have created an alternative contest called Turkvision, which will see 20 countries and autonomous regions populated with Turkic minorities take part, the first of which will be held in Eskisehir this December.
However, Portugal and Bosnia-Herzegovina, which stayed away this year due to financial problems, have applied to take part in the Danish capital next May.
The deadline to apply for the contest passed on 22 November, with a list of 36 countries on the starting line. But they can announce their withdrawal at any time until 15 December without penalties.
Serbia won the contest in 2007 on its first attempt as an independent country, having previously participated as Serbia and Montenegro. From the 1960s to the early 1990s it took entered as part of Yugoslavia.
But the nation's fortunes have fluctuated since its debut victory and it has failed to capture another win.