Vinnie Jones reveals cancer treatment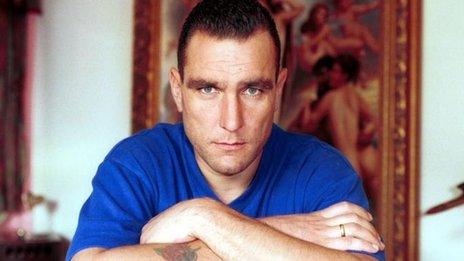 Actor and footballer Vinnie Jones says he has had several lumps removed after being diagnosed with skin cancer.
The 48-year-old noticed a small blemish below his eye in February, thinking it was "a blackhead or a wart".
A check-up revealed it was melanoma, the most serious type of skin cancer, which kills 1,300 men and 900 women every year.
Doctors have since found more tumours, but Jones told The Sun he would fight it with "everything I've got".
"When the doctor said I had skin cancer, the first thing I thought was 'how long have I got?'" he told the newspaper.
"It's weighing very heavily on me all the time," he said.
Malignant Melanoma death rates have been increasing in the UK since the early 1970s, but the disease is largely preventable by avoiding strong sunlight and using high-factor sun creams.
Treatment is more likely to be successful if melanoma is spotted early.
Jones said that, subsequent to the removal of the tumour under his eye, doctors had found more cancer in the same area and, two months ago, he had a third operation to remove a tumour from the back of his head.
He blamed his outdoor lifestyle for the cancer - noting that after growing up on the football pitch, he had moved to Los Angeles to pursue a film career.
Now working with the Melanoma Research Foundation, he urged people to be more aware of exposure to the sun.
"Footballers never put on sunblock and they should all be wearing it," he said. "Kids should all be wearing it every time they play sport."
"If you spot something on your skin that doesn't feel right... get it checked out immediately."
Jones also revealed his wife Tanya had been fighting skin cancer, a result of drugs she had been taking since having a heart transplant 26 years ago.
The star, who has appeared in films including X-Men: The Last Stand and Lock, Stock and Two Smoking Barrels, was previously captain of the Welsh Football Team and played for Wimbledon, Chelsea and QPR, among others.
His revelation comes days after fellow actor Hugh Jackman disclosed he had been treated for skin cancer.
The star of Wolverine posted a photograph on his Instagram account, with a bandage on his nose following the removal of a basal cell carcinoma.
He wrote: "Please don't be foolish like me. Get yourself checked."
Related Internet Links
The BBC is not responsible for the content of external sites.