Art Party Conference puts the art into party politics
By Ian Youngs
Arts reporter, BBC News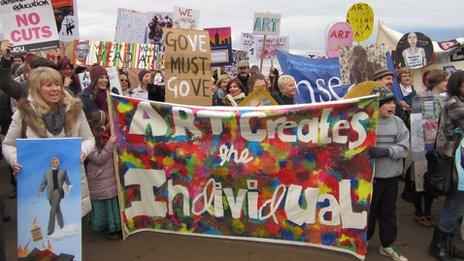 Some big names from British art have been at the inaugural Art Party Conference, an alternative political party conference that saw delegates chew over the state of culture and throw missiles at a likeness of Education Secretary Michael Gove.
"Where are we going?" called the artist Bob and Roberta Smith. "Scarborough!" came the enthusiastic chant in reply from a couple of hundred artists, students and art teachers.
They were in Scarborough already, in fact, marching along on the beach with colourful placards. "What are we going to do when we get there?" called Smith, who is one man but uses both names Bob and Roberta.
"Breakfast!" shouted a voice. "Party!" replied another. The mob had not got the hang of the response Smith has been training them to chant: "To better advocate the arts to government!"
They were on their way to the first Art Party Conference, an artists' alternative to the annual political party conferences that always used to be held in such seaside resorts.
Organised by artists, the event had an appropriate air of anarchy and oddness, but with serious intent and indignation at its heart.
It was, the venerable sculptor Richard Wentworth remarked, like "a cross between a Navajo gathering and an Irish horse fair".
In the main hall, a Salvador Dali impersonator acted as the compere as figures from the arts world mounted a kind of pulpit to deliver short sermons on the state of the arts.
At the edge of the room, someone was inviting visitors to play the classic party game of pin the tiara on the artwork, with Edvard Munch's The Scream and an Andy Warhol-style Campbell's soup tin the two possible targets.
Down the corridor, there had been erected a Goveshy, a coconut shy in which people threw balls not at coconuts but at small clay busts of Michael Gove.
Inviting people to throw things at the head of a cabinet minister is perhaps not the most diplomatic way of advocating anything to the government. As the day went on, Mr Gove was the main target for vitriol as well as missiles.
And like any normal party conference, the tone was highly partisan.
Critics have accused Mr Gove's new national primary curriculum and GCSE exam changes of creating a "two-tier" system that sidelines arts subjects.
In response, the government has said primary pupils must focus on the "vital" subjects of English, maths and science, but that schools will have "more freedom" to teach other subjects.
With GCSEs, the government has said the new structure will reward students for taking a broad mix of subjects, including creative ones.
But Lesley Butterworth, general secretary of the National Society for Education in Art and Design, told the conference the current government's education policies were "the most toxic thing to happen to art and design in education in my professional lifetime".
Sculptor Cornelia Parker claimed art was "under attack". In a recent survey to find the nation's favourite works by British artists, Parker was the only living artist to feature in the top 10.
Her concern extended beyond the school curriculum to the ability of budding artists to pay tuition fees at art colleges.
"I was a working-class girl who went to art school and got educated and got six years of free education, which we don't have now," she said.
"For me it was a life saver and I think a lot of young kids from deprived backgrounds are not going to have the access to it they should have."
More than 1,000 people turned up to Saturday's conference, where other speakers included actor and director Sam West, poet Maureen Duffy, Turner Prize winner Jeremy Deller and artist Haroon Mirza.
Bob and Roberta Smith masterminded the event, but rejected the title of leader of the Art Party. It is not a real party but a "pressure group of people who think about things in a certain way", partly inspired by the Tea Party in the US, he explained.
"We're going to carry on and carry on doing this sort of activity because it shows that if people do care about something, you can't stand by and let that happen," he said.
"I think the government's ideas about the arts are absolutely appalling and need to be rebutted. And if you don't rebut it then you can't complain when things go wrong."
Asked why education was above arts funding cuts on the conference agenda, and why the art world's usual bete noir, Culture Secretary Maria Miller, was not alongside Mr Gove on the coconut shy, Smith made a surprising admission - for an artist.
He praised Ms Miller and her ministerial colleague Ed Vaizey, saying they deserved "Brownie points" for how they had "maintained arts spending to museums and galleries to some degree".
So what if the Art Party went one step further and became a real political party? What state would the country be in if artists were in charge?
"It would be so shambolic wouldn't it?" Cornelia Parker laughed. "I don't think artists want to run the country. We can barely organise ourselves."
"It would be a lot of fun for a time," Jeremy Deller said. "I don't know whether it would last very long. But it would be a lot of fun."
Related Internet Links
The BBC is not responsible for the content of external sites.