Anna Jordan 'elated' to win Bruntwood playwright prize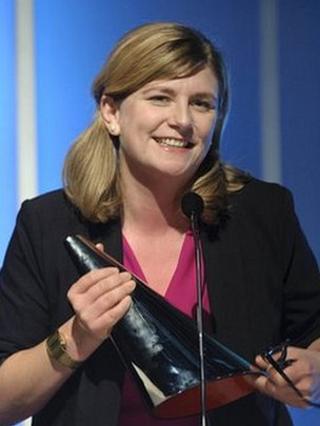 Anna Jordan has won the £16,000 Bruntwood playwriting prize for Yen, a tale of lost innocence.
Jordan, who trained as an actor before turning to writing, said at a ceremony in Manchester's Royal Exchange Theatre that she was "utterly elated" to win.
Judge Dame Jenni Murray called Yen "a play of great depth and relevance".
The prize, first awarded in 2005, seeks out new writing talent and is awarded to works that are original and have yet to be performed.
London-based Jordan has written three other plays and her work has been staged at the Bush Theatre in west London, Soho Theatre and Riverside Studios.
Her award-winning play centres on teenager Hench and his younger brother, who have an alcoholic mother and are left largely to their own devices. It explores the themes of love, violence and the death of childhood.
The 34-year-old based the work on a report she read in a local newspaper about two young boys who commit a heinous crime.
"I was interested in what might that do to a person, and what sort of person would that create if, in their very young life, that was the only stimulation they were getting?" she said.
Dame Jenni added: "In an incredibly dark world each of the characters are drawn with beautiful empathy, and a humanity which stood out to all the judges."
War Horse director Marianne Elliott, who was also on the judging panel, said there were a number of "really challenging and unsettling plays about the disenfranchised youth in Britain".
Yen was "the most hard hitting" entry, she added.
"It really gets under your skin. It's incredibly vivid and really upsetting, but in a brilliant way. You get to know and feel for these characters but you're also aware of the statement this writer is making about the state of the nation."
There were 1,800 entries for the contest and a panel of judges chose the winner from a shortlist of 10.
An additional three judges' awards were handed out to playwrights Katherine Chandler for Bird, Rolling Stone by Chris Urch and Luke Norris, who penned So Here Are We.
Previous recipients of the prizes have progressed to further success, including 2011 winner Alistair McDowall, who went on to be commissioned by London's Royal Court Theatre.
Duncan Macmillan, who won a judges' award in 2005, has gained critical acclaim for his adaptation of George Orwell's 1984, currently touring the UK.