Carlos Vives collects three prizes at Latin Grammys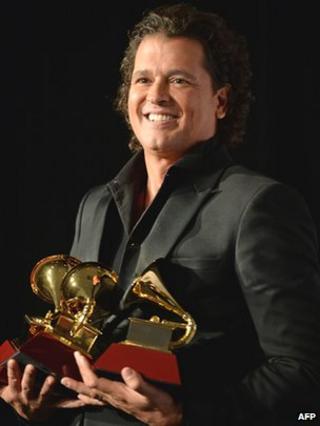 Colombian singer Carlos Vives has picked up three awards at the Latin Grammys, including song of the year.
The star, who is making a musical comeback at the age of 52, also won best tropical song and album at the ceremony held in Las Vegas.
Marc Antony, former husband to Jennifer Lopez, walked away with best recording of the year for Vivir Mi Vida.
The show also featured a host of performances from singers including Ricky Martin and Enrique Iglesias.
Martin sang with Draco Rosa, who took album of the year. Rosa's win comes after successful treatment for cancer earlier this year.
The pair were both members of 1980s boy band Menudo.
Spanish star Iglesias performed a medley of songs with US star Pitbull, who won the award for best urban performance.
Vives, who was previously a telenovela (soap opera) actor, also took to the stage with female dancers in traditional Colombian dresses.
He dedicated his song of the year gong "to all the children of Latin America because they have made this song even bigger. And of course, to my country, Colombia."
US musician Sergio George collected two awards for best salsa album and producer of the year for Vives' winning song, Volvi a Nacer.
Spain's Miguel Bose was named person of the year by the recording academy for his musical contribution and charity work.
He said: "This award is important, it's big," when it was presented by Ricky Martin.
"I don't think all these (honours) award both first and last name. To Bose for his career, to Miguel who dedicated himself to social causes," said Martin.