James McBride wins US National Book Award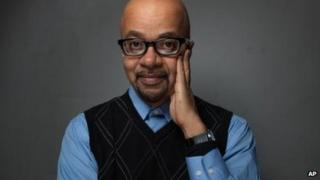 A book about an escaped slave who disguises himself as a girl and becomes caught up in John Brown's ill-fated abolitionist movement has won the US National Book Award for fiction.
James McBride's The Good Lord Bird was the surprise winner of the prestigious award which honours works by US authors published over the past year.
"I really didn't think I was going to be up here tonight," he said.
The New York ceremony also honoured writers Maya Angelou and EL Doctorow.
Ragtime author Doctorow, 82, received the 2013 Medal for Distinguished Contribution to American Letters for his body of work spanning five decades.
Marriage collapse
Maya Angelou, whose groundbreaking autobiography I Know Why the Caged Bird Sings is an American classic, was awarded the 2013 Literarian Award for Outstanding Service to the American Literary Community.
"Her creative impulse struck like bolts of lightning," said Beloved author Toni Morrison, who presented the 85-year-old with her lifetime achievement award.
"Her example is not one of survival. It truly is one of triumph. Dr Maya Angelou, you improve our world by drawing from us, forcing from us our better selves."
The annual National Book Award is divided into four categories: fiction and non-fiction, poetry and young people's literature.
The finalists in the four categories were whittled down from 1,432 books, including 408 in fiction and 517 in non-fiction.
McBride beat finalists including Rachel Kushner, Jhumpa Lahiri and Thomas Pynchon.
The 56-year-old author said his novel filled an emotional void during a period which saw his mother and his niece die, and his marriage collapse.
"It was always nice to have somebody whose world I could just fall into and just follow him around," said McBride, best known for his memoir The Color of Water.
George Packer's The Unwinding: An Inner History of the New America won the non-fiction prize, Cynthia Kadohata's The Thing About Luck won the young people's literature award and Mary Szybist's Incarnadine won for poetry.
The winners, chosen by separate panels of writers, booksellers and others from the publishing community, each received $10,000 (£6,195).