Original Poohsticks drawing expected to fetch £50,000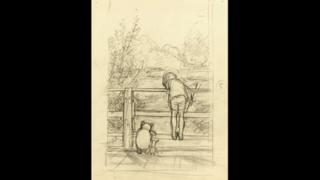 An original drawing of Christopher Robin and Winnie the Pooh playing Poohsticks is being auctioned by Sotheby's in London.
EH Shepard's pencil sketch shows Pooh, Piglet and Christopher Robin dropping sticks off a bridge.
The basis for an illustration which later appeared in AA Milne's The House At Pooh Corner, the drawing was believed to have been lost.
In fact it had been kept by Shepard's wife Norah and given to a friend.
Sotheby's Dr Philip Errington said the drawing was the first version of "one of the most famous illustrations in children's literature".
The 220mm by 141mm sketch (9in by 5in), entitled For A Long Time They Looked At The River Beneath Them..., is expected to fetch more than £50,000 when it is sold on 10 December
Estimated at between £30,000 and £50,000, the preliminary sketch is unsigned, with "some pin holes and minor spotting".
The game Poohsticks originated in chapter six of The House At Pooh Corner, "in which Pooh invents a new game and Eeyore joins in".
Sotheby's states that Shepard's working method are well-documented. He would make numerous sketches and studies and then prepare a preliminary pencil drawing on paper.
The artist would then use this drawing as a tracing guide for the final ink drawing.
Most of Shepard's pencil drawings were given to the Victoria and Albert Museum in the mid-1970s. Only four of the original drawings for The House at Pooh Corner are missing, including the image due to be auctioned next month.
It will be auctioned alongside an early colour illustration, entitled Christopher Robin's Braces.