Robert De Niro plays a mobster for laughs in The Family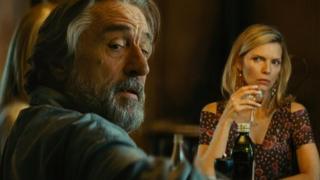 They're two of the greatest names ever associated with making movies about the mob, working together on several occasions on gangster-themed films such as Goodfellas and Mean Streets. But now Martin Scorsese and Robert De Niro are sending themselves up in The Family, a comedy directed by French film-maker Luc Besson.
Scorsese is an executive producer on the film, which stars 70-year-old De Niro as a mafia boss on the run with his family.
The production was made entirely in France, and De Niro plays curmudgeonly Giovanni Manzoni, a gang leader who betrayed his friends, and is now hiding out in the sleepy Normandy countryside under a witness protection programme.
But his entire family's criminal tendencies aren't so easy to disguise. Manzoni beats a supercilious plumber to within an inch of his life, and his wife, played by Michelle Pfeiffer, burns down the local supermarket after becoming the target of local anti-American humour.
De Niro won an Oscar for his part in Francis Ford Coppola's 1976 film The Godfather Part ll, and The Family is full of sly references to the actor's iconic roles as a mobster.
There are also overt tributes to famous gangster movies - including a scene where Manzoni has to give a lecture on the movie Goodfellas to the local Normandy film society.
According to De Niro, it was the incongruity of this scene that signed him up.
"I just thought it was very intriguing, what they planned to do with sending up Goodfellas," he says. "I thought to myself, 'well however it's going to turn out, this is going to be interesting.' It was just completely nutty. I actually went back and watched Goodfellas several times again to prepare for the part.
"Then Luc Besson and I sent the script to Martin Scorsese and asked him, 'would you do us the honour of taking part?' He called me and he said, 'you got me, you got me, I love the idea.' He became executive producer.
"Luc had originally thought of just producing it, but I persuaded him to direct it. It was a lot simpler.
"He lives in both France and America, and he understands both worlds, which are very different. He was a bridge for the French crew and the American actors."
Besson, the maker of action adventures like The Fifth Element, based his screenplay on the novel Malavita by Tonino Benacquista - which, translated into English, means Badfellas.
'Heightened reality'
He acquired a stellar cast, even if some of the actors had also played these roles before.
Tommy Lee Jones is a world weary cop trying to keep his charges on the witness protection out of trouble.
While Michelle Pfeiffer is Manzoni's long-suffering partner - the kind of role she last took in 1988's Married to the Mob, and, even earlier, in 1983's Scarface.
"I've been in this sort of thing before, but the tone of The Family is very different - it's somewhere between heightened reality and farce," she says.
"I wanted to work with Bob, that's why I took it on. We've actually been in two films together, in Stardust and New Year's Eve, but we never had any scenes together.
"I told my agent, 'if we're not working together this time, I'm not even opening up the script.' So I was pleasantly surprised that we had many good scenes together."
Pfeiffer says that it was easy for them to play husband and wife.
"We've been friends for a long time, but we've also been married for a long time too - to other people, just to clarify. We intimately know how long-term partners behave with each other.
"I suppose both our real relationships haven't been quite the rollercoaster of The Family though. No shoot-outs in the middle of the French countryside, for sure."
French welcome
In 1998, De Niro publicly declared to French newspaper Le Monde that "he would never set foot in France again" after being questioned - and cleared - by French police as part of an investigation into call girls.
He got over it a few years later to head up the Cannes Film Festival jury and spent the entire summer of 2012 in Normandy and Paris, filming The Family. He now confesses: "I love France, it's a wonderful country, and I had a wonderful time there.
"The local people were fantastic, and we were all able to spend time together in the local restaurants, being left alone. They may have deserved to get their supermarket blown up in the film, but in real life, they were really sweet."
Despite De Niro's success in the Meet The Family trilogy, and a fifth Oscar nomination for David O Russell's drama comedy Silver Linings Playbook, this particular comic foray hasn't met with the same level of critical enthusiasm.
The Hollywood Reporter points out that "this inside jape is unfortunately not as much fun for the audience as it seems to have been for the filmmakers", while trade magazine Variety says "it's not that The Family doesn't have some good ideas. In fact it might have too many".
However, De Niro is nowhere near finished with the gangster genre or with collaborating with Scorsese - they are continuing to develop The Irishman, a biopic of labour union official Frank Sheeran, who was said to have links to organised crime.
"I understand that I'm known for playing these kind of guys and that there's a real fascination for them. I mean in some ways, they're against the establishment, but in other ways they are the most traditional kind of people left.
"In many ways, mobsters typify traditional family values and very few people do that. But they are some of the best parts that get written, and I am lucky at my age that I get to go back and play them."
The Family is out in the UK on 22 November.